There are more than 25 golf courses in Pattaya and these are some of the best
Pattaya, a coastal gem in Thailand, not only offers pristine beaches and vibrant nightlife but also stands as a premier destination for golf enthusiasts. The city boasts a selection of exceptional golf courses that perfectly combine challenging play with stunning natural beauty.
Among the best golf courses in Pattaya, the Siam Country Club is a standout. With its two 18-hole courses, the Old Course and the Plantation Course, it offers a diverse range of challenges amid lush landscapes and meticulously designed fairways. The Plantation Course, in particular, is known for its unique layout and panoramic vistas.
Another notable course is the Laem Chabang International Country Club. Renowned for its immaculate maintenance and three distinct nines – the Mountain, Valley, and Lake courses – it caters to various skill levels while showcasing captivating scenery.
For golfers seeking a touch of luxury, the Phoenix Gold Golf and Country Club presents a serene environment with well-manicured greens and water features. Its East and West courses promise an enjoyable round in a tranquil setting.
The Pattaya golf scene wouldn't be complete without mentioning the Burapha Golf Club. Boasting two 18-hole courses, the Old Course and the Dunes Course, it offers an exceptional golfing experience amid rolling hills and well-crafted layouts.
These golf courses in Pattaya stand as a testament to the city's commitment to providing golf enthusiasts with world-class facilities and unforgettable rounds amidst the breathtaking coastal landscape.
Our pick of the best golf courses in Pattaya are:
1. Siam Country Club Old Course
2. Siam Country Club Plantation Course
3. Chee Chan Golf Resort
4. Laem Chabang International Country Club
5. Siam Country Club Waterside Course
6. Siam Country Club Rolling Hills
7. Phoenix Gold Golf Country Club
8. Pattana Golf Club & Resort
9. St Andrews 2000 Golf Club
10. Burapha Golf Club
11. Khao Kheow Country Club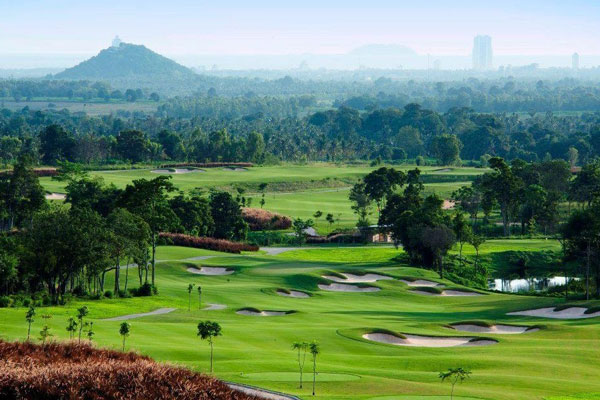 Pattaya is located just over 60 miles south-east of Bangkok and is very easy to reach. The town was one of Thailand's first every beach resorts, having provided rest and relaxation for American soldiers in the 1960's. There are many sandy beaches within the vicinity and water sports, such as snorkelling and scuba diving are popular. The nightlife also plays a large role in attracting visitors to Pattaya, with bars and clubs plentiful and due to the volume of people visiting for a holiday, the number of high quality hotels is increasing all the time.
However, due to the many hazards, such as the water mentioned above, it's wise to listen to the local caddy, who will accompany you during your round of golf in Pattaya. The sound advice offered, can easily help you gain an extra birdie or two, especially on courses you have never played before.
One of the many benefits of playing golf in Pattaya, is not only the great weather and condition of the courses but also the great prices. The golf courses and golf clubs in Pattaya can match anything found in the whole of Asia and beyond, yet cost a fraction of the price to play, making Pattaya a dream destination for those who like to pack as much golf as possible into their break. Not only that but the golf courses in this area of Thailand are suitable for players of all abilities, so whether you are a good, experienced golfer or a beginner, there is definitely something for you in Pattaya.
The following ten golf courses, are our pick of the very best Pattaya has to offer and should not be missed.
Wonderful mature tree-lined course and annual venue of LPGA Honda Classic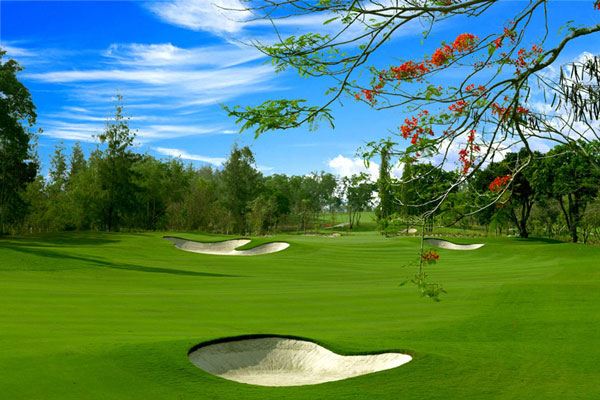 As the name suggests, this is one of the oldest golf courses in Thailand, having opened for play in 1970, but has since been renovated by Lee Schmidt and Brian Curley to a high standard. The good news is that much of the layout design was kept as it was originally, while all aspects of the course have been brought up to modern standards. However, there were some new additions made, namely some of the water hazards and bunkering.
The Siam Country Club Old Course has played host to many big events, such as the US LPGA and Honda Classic. It was also voted in the top 75 in the best golf courses of the world in the 2018 USA Golf Digest magazine. Being located so close to the centre of Pattaya, Siam Country Club Old Course is also very convenient for a round of golf at any time of day and there is really no excuse not to include this golf course on your Pattaya golf itinerary.
Location: 30 minutes from central Pattaya
Birdies: Wonderful layout, perfect greens, great clubhouse
Bogeys: Can be very busy, so book ahead. Operate 2-tee start in high season so no mid-morning tee times
Favorite hole: 8th hole - a par-3 with carry over weater to well-protected green
Green Fee Price: From THB 3,900 for 18 Holes (currently closed for renovations until Q4 2023)
A wonderful course with some very challenging holes and the largest green complex in Thailand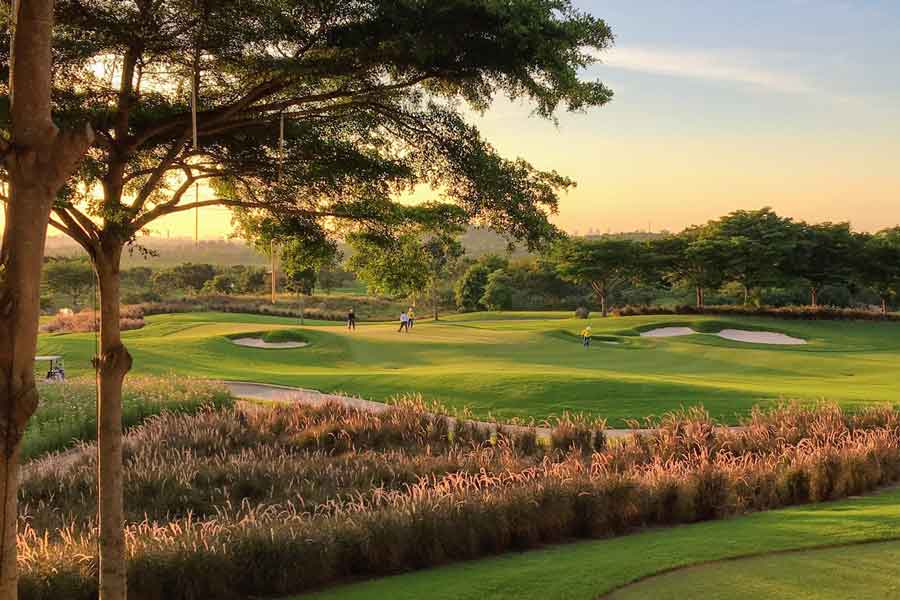 Staying with Siam Country Club and we come to another of their excellent golf courses in Pattaya called Plantation Course. This is rated by most players as being one the best golf courses in Thailand and like the updated Old Course, it has Lee Schmidt and Brian Curley to thank for its splendour.
The Plantation Course boasts 27 holes and is based on a former pineapple plantation. There are significant elevation changes on this golf course and at the highest point of the course you can enjoy views extending to the Gulf of Thailand, which is over 10 kilometres away.
Do not expect an easy ride when playing the Plantation Course. Your game will be tested in every way thanks to undulating greens, large high-lipped bunkers, carries over water, elevated greens and blind tee shots. There is a triple green on the course, which comes into play on the 7th hole of the Tapioca Course and the 4th and 9th holes of the Pineapple Course, which is an interesting touch by the designers.
The Sugar Cane Course is the third of the three sets of nine holes at Plantation Course and this is considered by many to be the best of three. However, you must play each of them and decide for yourself.
Location: 30 minutes from central Pattaya
Birdies: Perfect condition and with 27-holes gives more variety
Bogeys: Can be very busy, so book ahead.
Favorite hole: 5th on the Sugar Cane Course - par-5 with 30 bunkers
Green Fee Price: From THB 3,550 for 18 Holes
The latest golf course to open in Pattaya and already getting rave reviews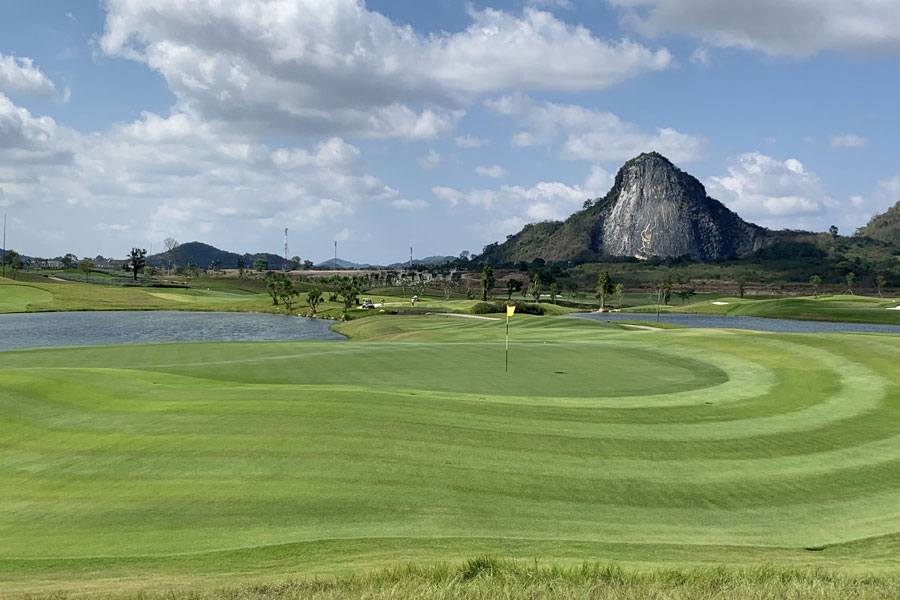 Leaving Siam Country Club behind and it is time to explore further afield where you will find Chee Chan Golf Resort. A 40 minute drive from Pattaya is all it takes to get to this new golf course, which opened for play in 2019. The fairways and greens are undulating but there are no significant changes in elevation throughout the 18 holes.
There is a choice of tees at Chee Chan Golf Resort, with the championship tees playing to 7,345 yards while the shortest tees play to 6,527 yards. Players of all abilities can enjoy a good round of golf. The views from the course are superb and you can see mountains, lakes and temples as you look across Khao Chee Chan.
The setting, which overlooks the Khao Chee Chan Buddha is difficult to beat and there is a real feeling of relaxation and peace when playing at Chee Chan Golf Resort. However, you cannot afford to take your focus off the golf course as the significant bunkering and water can easily spoil what had the makings of a good round.
The golf course coupled with the modern clubhouse make Chee Chan Golf Resort a tremendous addition to golf courses of Pattaya.
Location: 40 minutes south of Pattaya
Birdies: Superb conditioning of the course
Bogeys: The course is very long and secondary rough too punishing
Favorite Hole: The 14th – a monster par 5 with plenty of hazards
Green Fee Price: From THB 3,200 for 18 Holes
A picturesque 27-hole Jack Nicklaus Course layout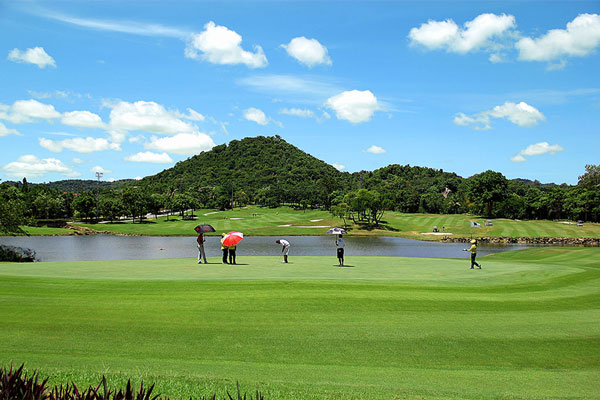 This golf course is considered by many, to not only be the best in Pattaya but in the whole of Thailand. Established in 1995 and designed by Jack Nicklaus, the course is split into three, distinctive sets of 9 holes, characterised by the terrain on which they are played.
Each course has been named separately and they are called Mountain, Lake and Valley. As the names suggest, each come with their own clear feature and for the Mountain course, that's rolling hills and natural undulations. The Lake course has a stream, which plays a part on almost all of the holes and the Valley course has a river valley running through it.
A very well maintained golf course and beautifully presented, Laem Chabang International Country Club is like playing three golf courses for the price of one.
Location: Between Pattaya and Chonburi, at km 31.
Birdies: One of Thailand's finest golf courses, with excellent clubhouse facilities.
Bogeys: Nothing we can think of
Favorite hole: The par-3 second hole on the Mountain nine, which is downhill to a green protected at the front by water.
Green Fee Price: From THB 2,960 for 18 Holes
Opened in 2019, this is the fourth Siam Country Club Courses to open in Pattaya. A more natural layout than the others with some fearsome bunkers.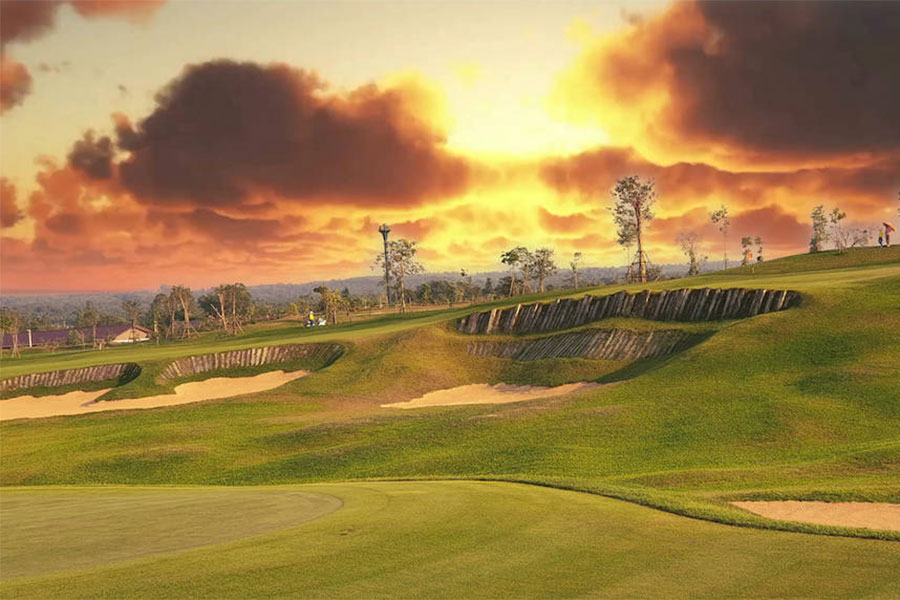 Unique, distinct, and different is the 4th golf course at Siam Country Club Pattaya, Rolling Hills. As is the case with all Siam Country Club courses, the layout is a core design with no real estate elements. Far removed from many of the rugged and natural designs in fashion today, Rolling Hills's design is a hybrid of traditional elements and natural courses of the past.
Stunning visuals, and optional lines of attack in a risk reward setting create very memorable holes. Many holes have an abundance of centerline hazards that create strategic and visual excitement. Large waste areas planted with casuarina trees that become pine straw forest, waste bunkers, marsh lands, lotus pools, and lakes are the beautiful features of the golf course.
The Talk of the Town will be No. 15 hole, the "Wall of Death", a par 5, uphill, and double zig-zag fairway with the green guarded by a 19-foot pit bunker. No. 18 wraps around the lake to another masterpiece clubhouse of Siam Country Club.
Location: 40 minutes from central Pattaya
Birdies: Really interesting and challenging par 3"s
Bogeys: Trees need to time to mature
Favorite Hole: The 15th - par-5 with famous "Wall of Death"
Green Fee Price: From THB 3,550 for 18 Holes
As it matures the course is improving all the time, and it's almost as good as other three SCC courses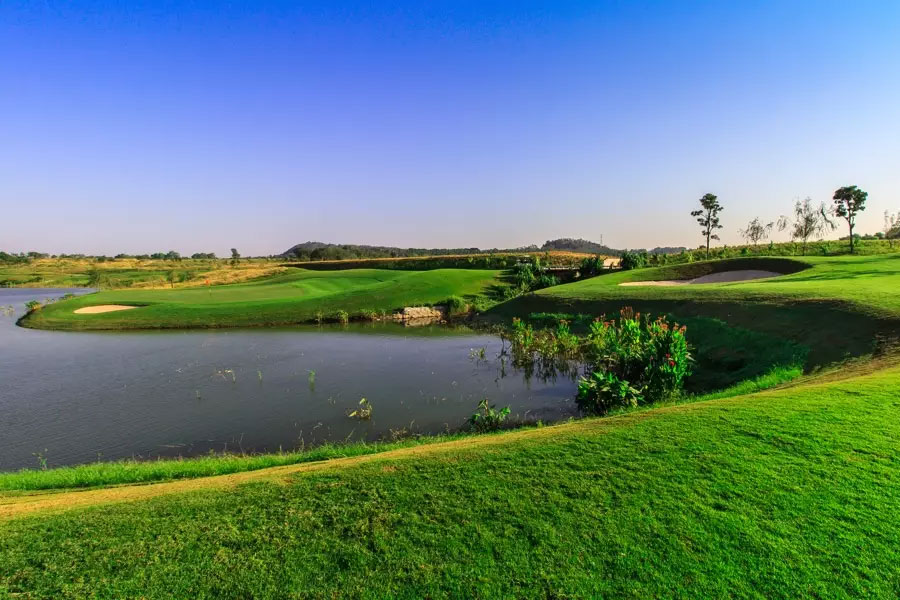 You do not have to travel much further away from downtown Pattaya before you come to the third of our Siam Country Club golf courses. Just a 30 minute journey will take you to the Waterside Course. This opened for play in 2013 and was created by IMG Golf Course Design. If you believe you do not need to play another of the Siam Country Club golf courses having enjoyed the Old Course and Plantation Course you are very much mistaken.
Waterside Course is unlike both of the above and is mostly flat, which differs from both the Old Course and Plantation Course. As one can imagine from the name of the course, water does come into play throughout the 18 holes but once you reach the back nine, there is not a great deal to worry about in that respect.
However, the greens are well protected with at least two or three bunkers on each hole. Some of the fairway bunkers are huge and accuracy off the tee is a must to score low but the overall course distance is not long, playing to 6,608 yards.
Location: 40 minutes south of Pattaya
Birdies: Great views and modern clubhouse
Bogeys: Carts have to stay on paths which can make things slow
Favorite Hole: The par-4 17th, the most difficult hole on course
Green Fee Price: From THB 3,550 for 18 Holes
Host of the 2016 Kings Cup, a joint tournament of the European and Asian Tour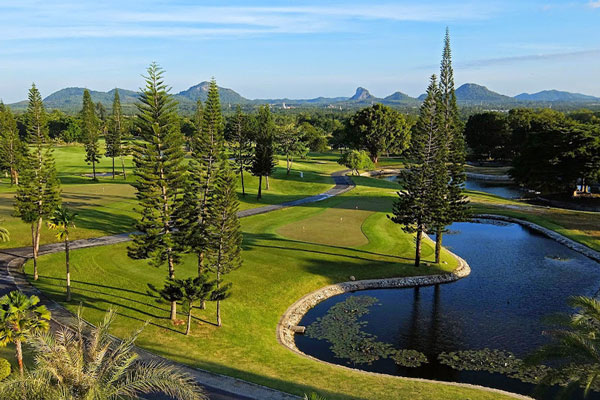 Established in 1993 and designed by Dennis Griffiths, Phoenix Gold Golf and Country Club is a 27-hole golf course comprising three nines, the Ocean, Lake and Mountain courses.
The natural vegetation, including large mango, eucalyptus trees and flowering shrubs, adds a touch of beauty and colour to the course and there are fantastic views of the nearby mountains and gulf of Thailand to enjoy. Phoenix Gold Golf & Country Club is quite rare for the region in that it does not have much in the way of water around the 27 holes. The Lake course is the only one to really feature any water hazards, which come in the way of small ponds.
In general, the 27 holes feature gently rolling fairways, shallow bunkers and sloping greens. The main difference between each set of nine is the surrounding area and views, with the Gulf of Thailand coming into view on the Ocean course and jungle clad hills providing the backdrop to the Mountain course.
Location: 10 km from Pattaya, near Jomtien beach.
Birdies: Very easy to reach from Pattaya.
Bogeys: The new 9-hole needs to time to mature.
Favorite hole: The par 5, 9th hole on the Ocean course, which plays from the highest point on the course toward the Gulf of Thailand.
Green Fee Price: From THB 1,800 for 18 Holes
This much-improved course with two 18-hole layouts is well-worth a look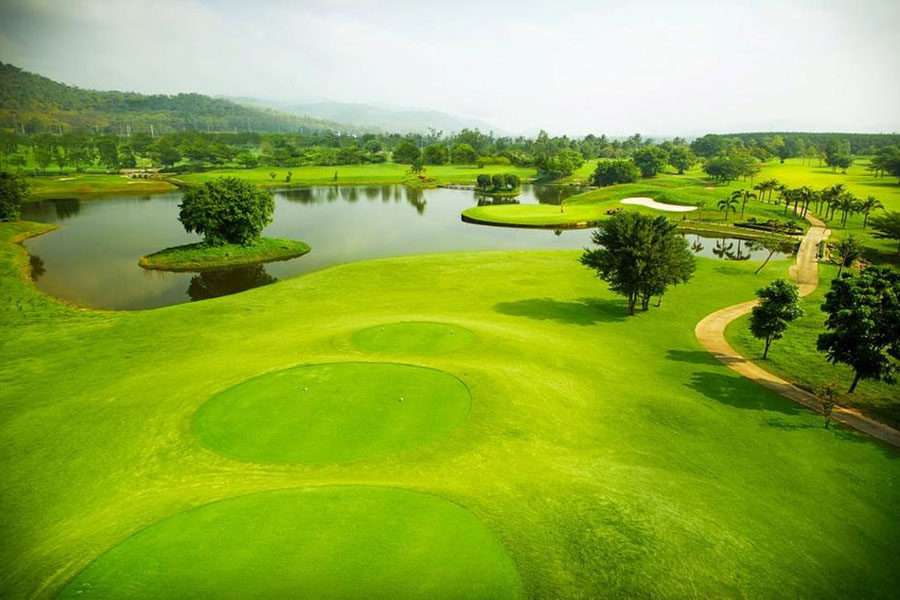 Roughly the same distance away from Pattaya as the Chee Chan Resort is Pattana Golf Club and Resort. This golf club was established in 2003 and is a very interesting venue as there is a lot more to it than the golf course. In addition to the 27 hole golf course, you will find a clubhouse, sports stadium, heliport and accommodation among other features.
Pattana Golf Club and Resort has been split into three sets of nine holes called Andreas, Brookei and Calypso. They have been named after cacti found on the course and each offer something different. There are two par-6 holes, which provide a challenge unlike any other course in this region of the country. On the Andreas and Brookei Courses there are two holes which play to well over 600 yards.
Water plays a big role at Pattana Golf Club and Resort but the trees can mostly be avoided. Watch out for the wind, especially later in the afternoon which makes the course more difficult. In addition to the 27-hole golf course you will find a driving range, pro shop and three floor clubhouse, including locker rooms, spa and international restaurants.
Location: Near Siracha about 50 minutes from Pattaya
Birdies: 36-holes to choose from and excellent clubhouse facilities
Bogeys: They allow 5-balls onto course which can make it very slow
Favorite hole: The 5th hole on the A-Course which is 663 yards.
Green Fee Price: From THB 2,400 for 18 Holes
A unique golfing experience, with two 'par-6' holes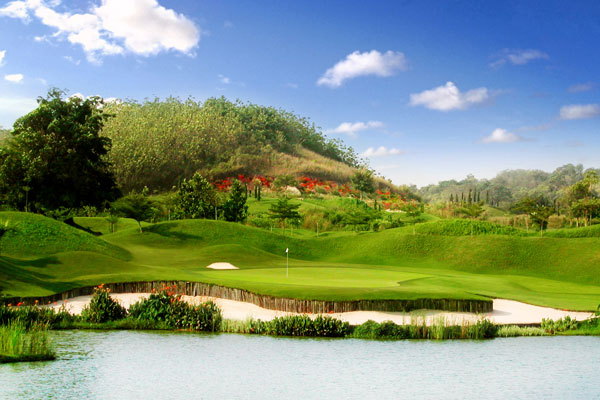 Situated just over a 30-minute drive from the centre of Pattaya is St Andrews 2000 Golf Club, a course designed by English architect, Desmond Muirhead. As a par-74 course, playing to a total of 7,777 yards, the length of the course demands immediate attention. The course has been built to replicate a classic Scottish links style course and is aimed at players with handicaps of 18 or lower.
Comprising both elevated tees and greens, with undulating fairways, which are severe in places, this is a golf course which provides a real test, to the best players out there. The greens are large but the real stand out feature has to be the two par-6 holes, which stretch over 800 yards long. These may not sit kindly for the golfing purist but everyone who loves golf will really enjoy the challenge they present.
A good mix of power and accuracy are required to tame the course at St Andrews 2000 Golf Club.
Location: Near Ban Chang, towards Rayong.
Birdies: Features two exciting and challenging par-6 holes.
Bogeys: The par-6 holes may not be for everyone.
Favorite hole: The dogleg-right par-6, 4th hole can be reached in three if you're brave.
Green Fee Price: From THB 950 for 18 Holes
The home of two, distinctive 18-hole championship golf courses, and 2010 host of the prestigious Thailand Open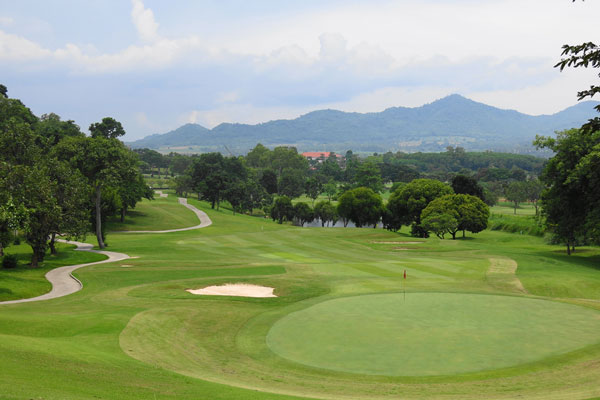 Designed by David Graham and Gary Panks, Burapha Golf Club opened for business in 1995 and features two, 18-hole championship golf courses. The courses play to a par-72, with one 6,828 yards and the other stretching to 6,948 yards. Burapha Golf Club was previously for members only but has since opened its doors to visitors and hosted the 2010 Thailand Open. Both golf courses make use of the natural environment and include palm trees, hills, lakes and local flora and fauna.
The East course is probably more suited to beginners, with wide open fairways, whereas the West course will provide a challenge for the more advanced player, including professionals. The elevated tee boxes give excellent views of the holes and both courses are always very well maintained, with greens coming in a variety of sizes, keeping players on their toes throughout the round.
Location: North of Pattaya, near Laem Chabang.
Birdies: Very well maintained golf course, offering a number of different routes through the 36 holes.
Bogeys: The food is not the best available in the region.
Favorite hole: The 7th Hole of the East course, which provides magnificent views over the surrounding countryside.
Green Fee Price: From THB 1,300 for 18 Holes
*****
So that completes our guide to the best golf courses in the Pattaya region of Thailand. There are plenty of wonderful golf courses to choose from and it can be difficult to single one out in particular but whichever courses you decide to play, you are guaranteed a fantastic golfing holiday in Pattaya.