Our pick of the best golf courses in Bangkok
Click here to see all Bangkok green fees - save up to 50% when you book here
Away from the hustle and bustle of its vibrant street life and ornate shrines, Bangkok offer visitors an ever growing number of quality golf courses to enjoy. Thailand is known as the 'Land of Smiles' and for good reason, especially for those looking to enjoy a round at some of the capital city's most unique venues. Despite each course offering visitors something different in terms of layout and difficulty, one thing in which they all have in common is the tropical perfection with surrounds them. With water prominent among many of Bangkok's most popular courses, be sure to make use of the tips offered by your own personal caddie, of whom can range from a wise old head to a beautiful young Thai lady.
Bangkok golf courses generally offer great value for money partly due to the fact that new courses continue to open and the number of golfers around the world is in decline. The capital city is home to many of the country's best golf courses, many of which have been renovated to world class standard in the past few years.
Indeed, Bangkok is now viewed as a hub of golfing activity, and offers the perfect combination of city and leisure facilities for all to enjoy. Excellent clubhouse amenities and challenging scenic courses, along with a smiling and friendly service, help to ensure that a golfing holiday in Bangkok becomes a golfer's paradise. With many courses offering transport to and from your hotel, be sure to hit the fairways early to avoid the afternoon heat. You will certainly not be disappointed with what Bangkok has to offer, and here are our top ten courses for you to try.
Amata Spring Country Club
Amata Spring Country Club is regarded as being one of the top golf courses, not only in Bangkok but the whole of Thailand.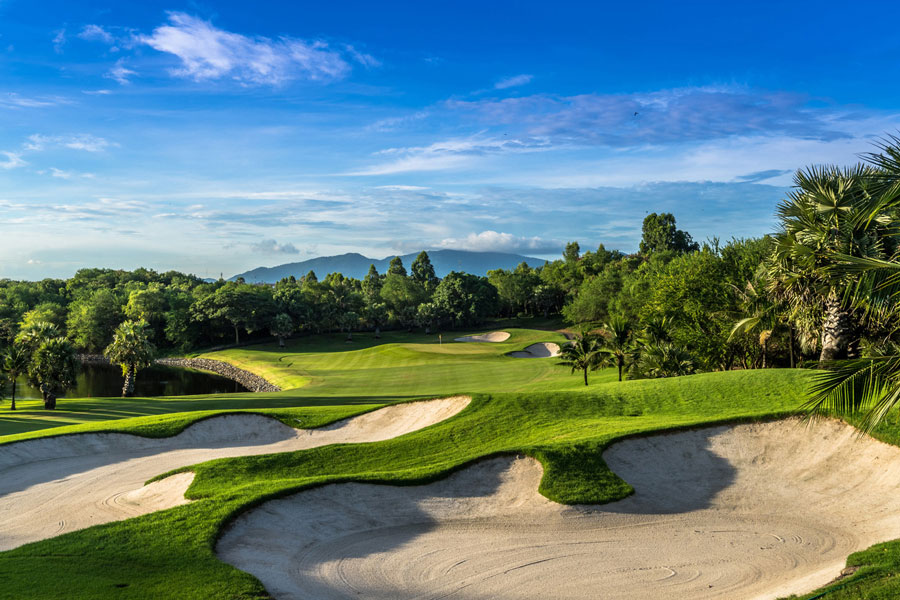 Situated between Bangkok and Pattaya, many visitors choose to play a round at Amata Spring as they travel between the two destinations. The golf course was established in 2005 and designed by the legendary architects, Schmidt and Curley.
There is nothing to dislike about this golf course. The fairways are long and undulating, the greens fast and true and the bunkering second to none. There are also many water hazards situated around the course which make Amata Spring Bangkok a delight to play.
Two large lakes dominate the course and several of the holes have been routed around the water. The picks of these has to be the par-3 17th hole which plays to around 145 yards. It is short but things become a lot more challenging when you look out towards the floating island green. This hole plays to around 145 yards because the island can be moved so the distance can change.
A boat takes you across to the island to make your putt and then back again to continue your round. It is a great experience. The quality of Amata Spring Bangkok is fantastic and you will find the course in splendid condition. Many professional tournaments have been played here and the accommodation and facilities make it a great place to stay.
Location: 70 kms south-east of Bangkok in the Chachoengsao province.
Birdies: Everything about this course is superb.
Bogeys: You can only play here as guest of a member.
Favorite hole: Par 3 - 17th with its island green only accessible by boat.
The sister course to the three famous Siam Country Club Courses in Pattaya and already one of the top courses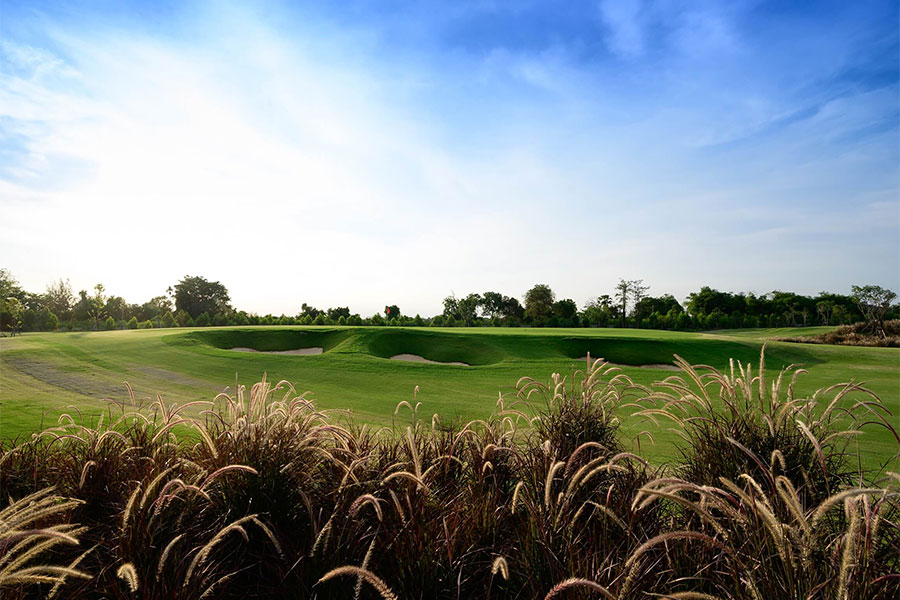 Siam Country Club Bangkok is the 5th addition of the Siam Country Club. This masterpiece 18-hole championship, 7,250 yards, golf course is meticulously designed by Toby Cobb, design associate of the Coore and Crenshaw Design, who is responsible for numerous world-renowned golf courses, and built by Golf East Co., Ltd. Zoysia is used in the fairway while Ultra-Dwarf Bermuda is used on the greens. The Office of Bangkok Architect masterfully creates and supervises another unique 4,400 sqm grand and comfortable clubhouse amenities familiar to the fans of Siam Country Club Pattaya, home of the Honda LPGA Thailand at the Old Course.
Location: 40 kms south-east of Bangkok along the Bangna-Trat Highway
Birdies: Beautifu clubhouse and excellent conditioning
Bogeys: The views are not greta as surrounded by factories
Favorite hole: Par 3 - 18th with huge green in front of clubhouse
Superb service at this immaculate course - the site of one of Tiger Woods many victories.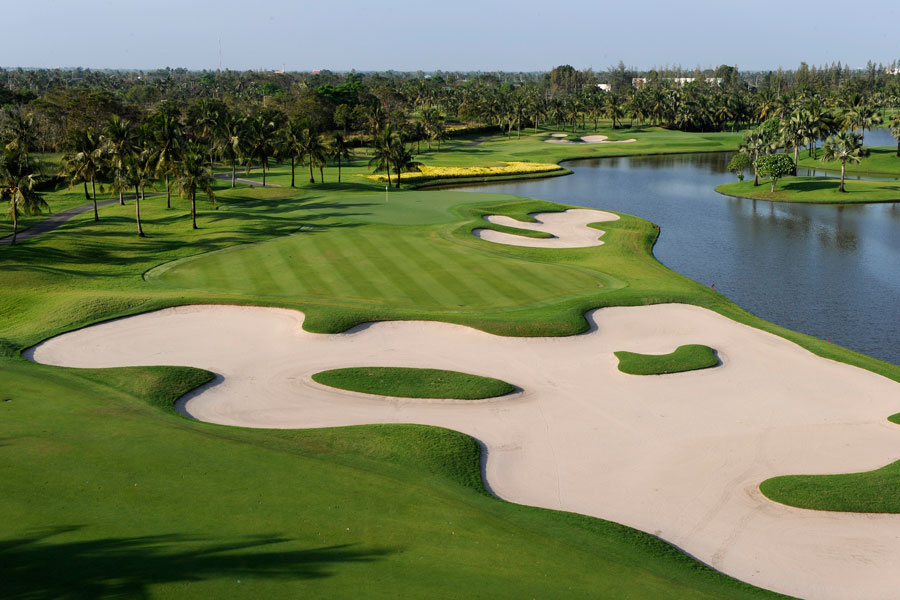 There are no better places to start than the world class Thai Country Club. Despite its difficulty, it is widely regarded as one of the best courses in the whole of Thailand by experienced golfers, due to its variety of holes and perfectly manicured fairways. Designed to US PGA international standards by Denis Griffith, numerous water and sand hazards, combined with a course length of between 6,105 and 7,157 yards, makes the Thai Country Club an endlessly challenging course for even the world's leading players. The course certainly requires excellent game management partly due the way the course has been sculpted with plenty of bumps and hollows and it is difficult to believe that this area was once flat. The fairway and greenside bunkers are very well positioned which demands careful shot making. If you do get offline, you can usually find your ball quite easily although the clingy semi-rough makes returning to the fairway that little bit more difficult.
You will really notice the difference when you are off the course as the club is managed by the Peninsula Hotel Group and the quality of the service and food is such as you would expect from a 5-star hotel.
Location: 50km north of Bangkok in the Chachoengsao province.
Birdies: Excellent buffet lunch is the perfect complement to a fantastic course.
Bogeys: Closed every Monday
Favorite hole: Signature Par-3 6th was named the best Par-3 in Asia from 2001-2006
A really exceptional layout and one of more challenging courses in Bangkok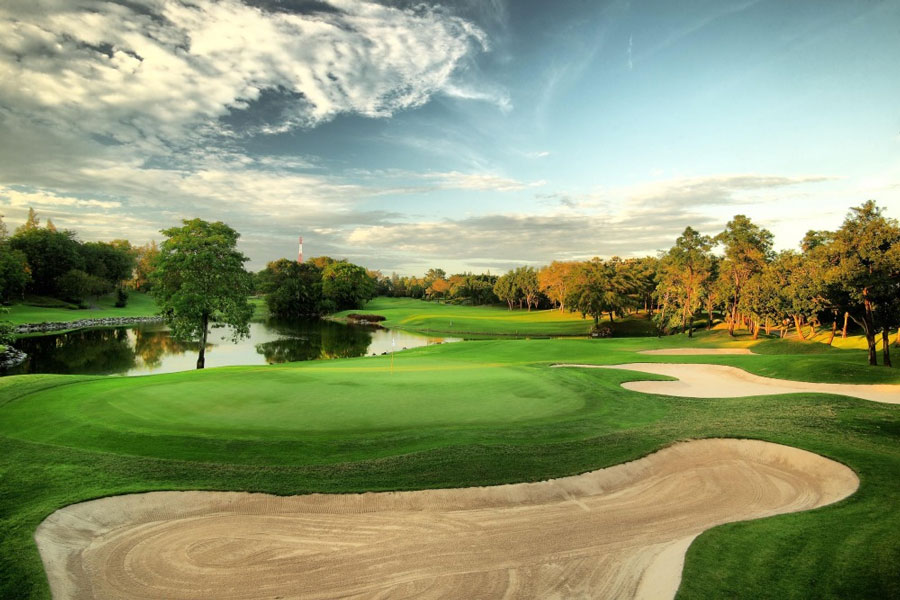 Most famously remembered as the site for Tiger Woods' Johnnie Walker PGA Tour success back in 2000, the course is named in reference to the hilly surrounding landscape, something unique compared to the rest of the city's venues. The impeccably maintained course has a series of water and sand traps to keep things interesting, with little margin for error off the tee. The Championship Par-72 course measures 7,100 yards, with tall trees lining most fairways. Alpine is certainly a course that will test even the very best with its undulating fairways and elevated greens. However, even if you are not having a great round it is a wonderfully picturesque course covered in colourful local plants which are native to the area.
Those who are lucky enough to get the opportunity to play at Alpine will without a doubt have an unforgettable experience, with their golf skills tested to the limit. The clubhouse facilities, locker rooms, and restaurants are on a par with the rest of the complex, ensuring a visit to the facility should be part of any serious Bangkok golfing package.
Location: 90 minutes from Suvarnabhumi Airport and one hour from central Bangkok.
Birdies: Great caddies, as well as modern Jacuzzi and sauna for post round relaxation.
Bogeys: Sometimes gets crowded with Korean and Japanese groups making for a slow round
Favourite hole: 'Valley of mounds' signature Par-3 is notoriously demanding.
The golf course was designed by Schmidt-Curley Design Inc, who have won several awards for their golf courses in Asia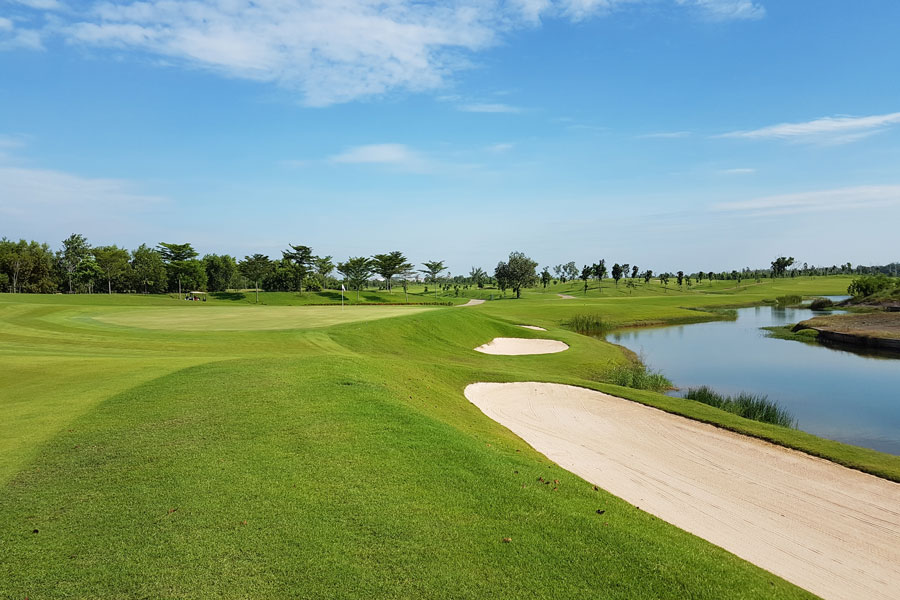 Unlike many of the other golf courses in the Bangkok area, Royal Bang Pa-in Golf Club has changes in elevation and there is a seven metre difference between the lowest and highest points of the golf course. This elevation change makes a sound strategy and club selection very important and adds to the overall test of the course.
The greens are also undulating and quick, so plenty of consideration is requited on approach to the putting surface. Leave yourself on the wrong level or with a downhill putt and you could be left struggling to two-putt on the greens, some of which are regarded as being the largest anywhere in Asia.
Location: 90 minutes from Suvarnabhumi Airport and one hour from central Bangkok.
Birdies: Ultra-modern clubhouse with great food and service
Bogeys: The traffic can be very bad and during peak hours ther can be delays
Favourite hole: Par 3 - 14th with it's island green
A superb and often underrated course close to the airport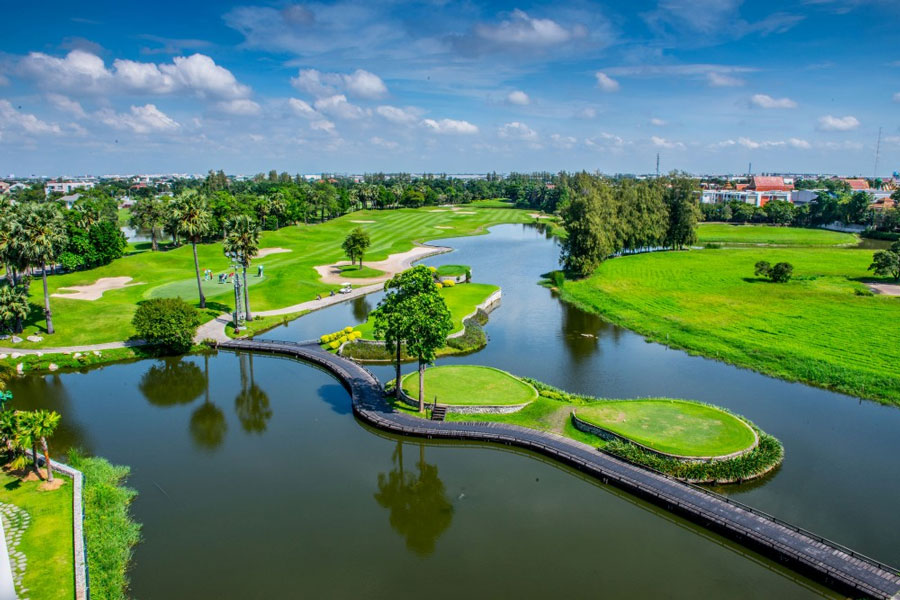 Its location just 30 minutes from Bangkok city centre, along with its excellent maintenance make this course one of the most popular in the region. Water comes is a factor on each hole from first to last, and the course, which is designed by Nick Faldo, is also dominated by greenside bunkers. Water comes into play as soon as the par-5 1st hole, with a large lake that flanks the left side of the fairway. The same theme is repeated on the 18th hole, with the two unsurprisingly selected as the two signature holes. The 1st hole is a long 624 yards, with the 18th an exciting finishing hole that can provide a dramatic ending to any round. The course clubhouse is one of the best in Bangkok, with its scenic views making it the perfect site for a post round snack. Despite not being all that far from the city centre, Summit Windmill still offers a peaceful environment for visitors.
One of the few courses in the area offering night golf – ideal after a hard day at the office.
Location: Eastern Bangkok, towards Suvarnabhumi Airport.
Birdies: Array of wildlife across the course.
Bogeys: Popularity makes for five hour rounds, outdated locker rooms.
Favorite hole: Island green on Par-3 12th.
A unique replica course with many famous holes including entire back nine modelled on Augusta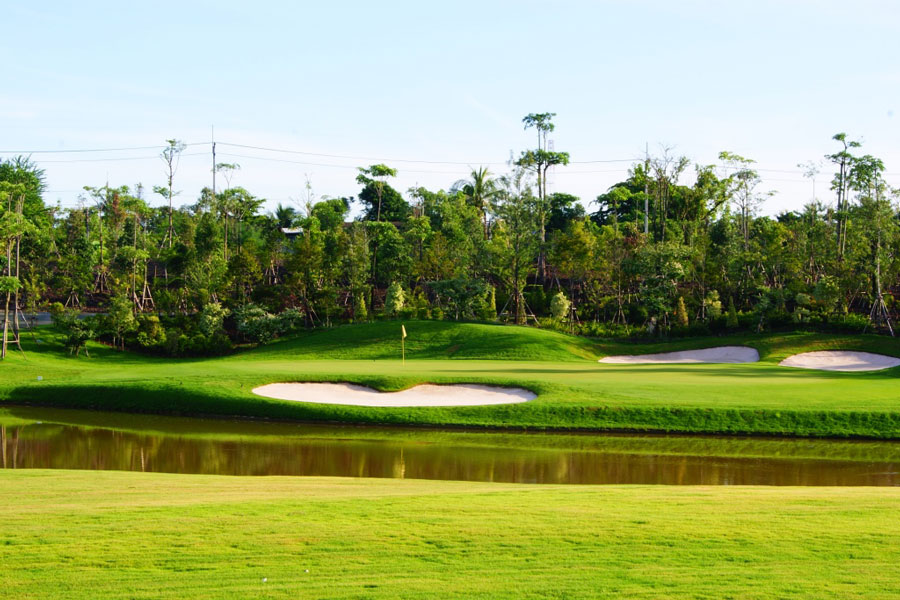 This unusual replica golf course offers a unique opportunity for golfers to realise their dreams of playing on some of the world's most iconic holes. Just a stone's throw away from Bangkok city centre, visitors will be able to experience one of the most unusual courses in Thailand, whilst at the same time you can dream that you are actually playing on the hallowed turf of St Andrews or Augusta. In fact, the entire back nine from Augusta, including Amen Corner, awaits you on the inward nine at Royal Gems Golf City. The abundance of water and sand hazards make it a challenging course, however golfers of all abilities, if they choose the right tee box will enjoy this wonderful course which is as close as most of us will ever come to playing at Augusta
As we all know, playing a round on a replica course from the world's top holes can be taxing for even the best of players. Luckily for you, Thai caddies are on hand to offer you tips throughout your round, before you relax and enjoy a cold beer in the impressive clubhouse.
Location: 40-minute drive from central Bangkok.
Birdies: Some great replica holes -many true to the orginal.
Bogeys: It's not cheap -especially at weekends
Favorite hole: Replica of the famous Sawgrass 17th with its island green.
May not have the profile of some of bigger clubs but this is superb layout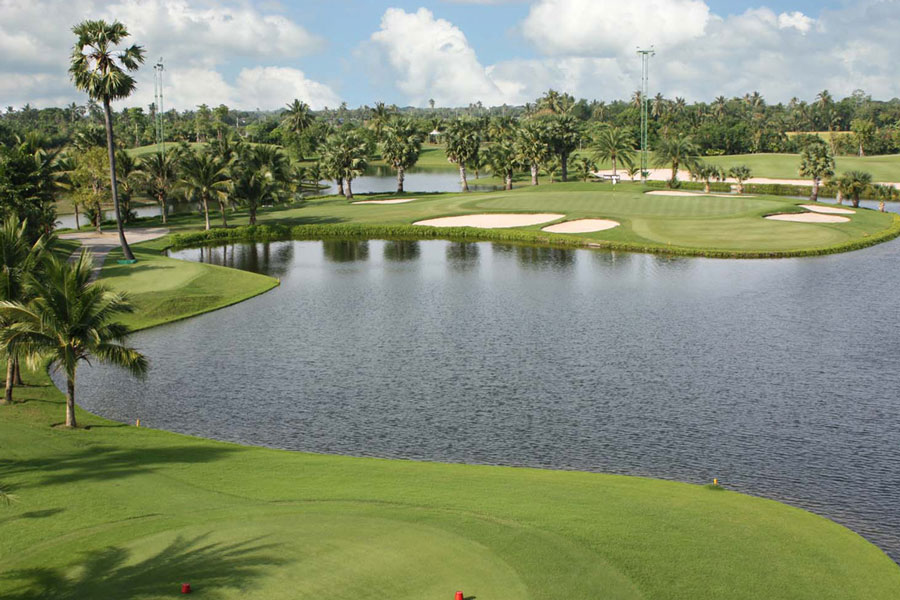 Opened back in 2005, Suwan Golf & Country Club is now well known as one of the most exciting and challenging courses in Asia. The course, spanning over 7,100 yards, offer golfers dramatic sloping greens and a hilly layout throughout which will test your short game. With water and out of bounds coming into play on the majority of holes, a long and straight drive is essential. For more experienced players, doglegs are used to tempt golfers into going for glory with the obvious risk and reward resulting in a dropped shot or birdie, depending on the outcome. The club also includes a large putting green, as well as a 300-yard driving range. The clubhouse features among other things a modern locker room, rain showers, Japanese styled baths and Jacuzzi, as well as a delightful Thai restaurant overlooking the 9th hole. To top it all off, the caddies at Suwan are among the most knowledgeable in the whole of Thailand.
Location: West of Bangkok in Nakhon Pathom Province.
Birdies: Superb layout
Bogeys: 90+ minutes from Bangkok centre by car.
Favorite hole: The Par-4 14th with water running down the length of the fairway.
Bangkok's newest course with unique layout and only all-inclusive course in Thailand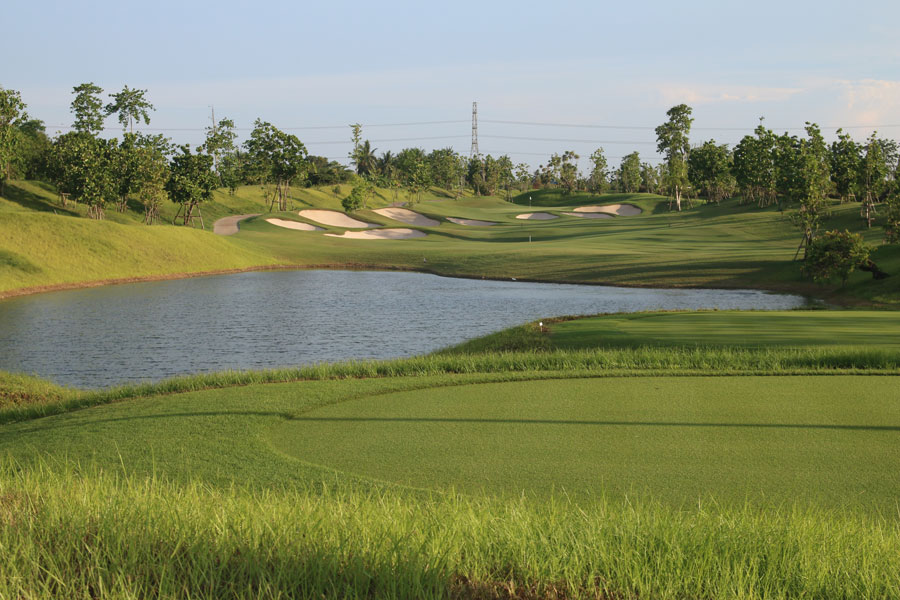 Something a little different from the other courses in the region, Nikanti is made up of three loops of six holes, rather than the traditional front and back nine. As well as this, the course only measures 6,850 yards in length from the black tees, and along with its wide fairways, offers plenty of potential for low scoring. However, with its elevation variations and lightning quick and heavily contoured greens, do not underestimate the challenges you will face during a round at Nikanti. The amenities available are an added bonus at the venue, with 15-minute tee times helping to ensure for a good pace of play. This is a fully inclusive course and your fee includes all fees including a superb meal before and after your round, soft drinks and even caddie tips.
Location: 1 hour from Bangkok centre off highway 4.
Birdies: All inclusive – nothing extra to pay – even for food and soft drinks
Bogeys: Greens have too many bumps and hollows which leads to some very difficult pin positions
Favorite hole: Par-5 13th offers golfers the option of reaching the green in two.
The only Greg Norman course in Bangkok and one of closest courses to city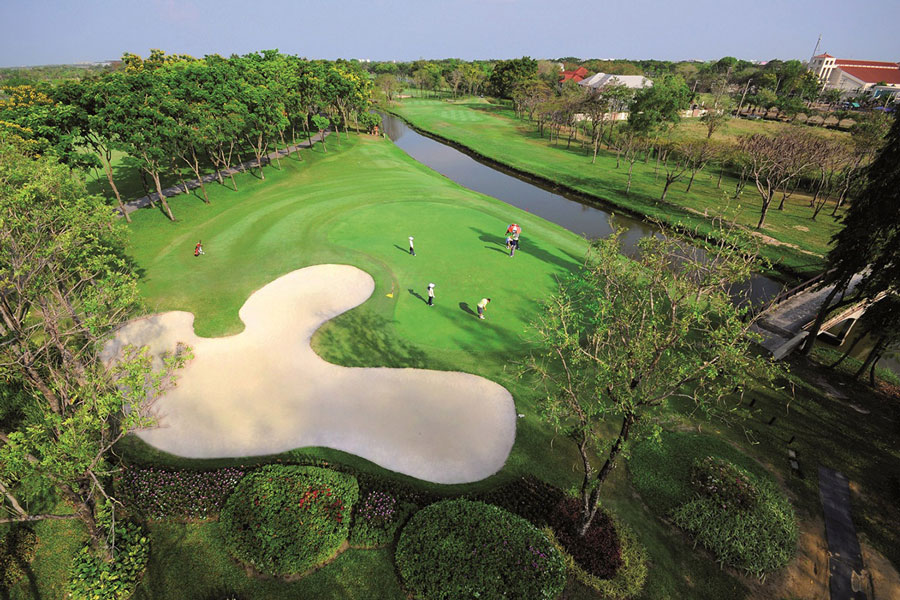 This Greg Norman designed course makes use of the surrounding native trees to offers golfers a links-style course in the heart of one of Bangkok's largest condominium developments. The numerous natural streams and lakes throughout the course offer a significant challenge to even the most skilful of players, with a fantastic array of holes to test both your long and short game. Be sure to stay away from the semi rough also, which is known to be extremely difficult to negotiate. With four island greens, including the 3rd, 4th and 5th holes, accurate approach shots or a spare set of balls are definitely a requirement. The facility includes a well maintained clubhouse, practice facilities, and swimming pool.
Location: Just 20-minutes from downtown Bangkok.
Birdies: Location, stunning natural scenery.
Bogeys: Vast water hazards can cause havoc for players.
Favorite hole: Par-4 18th with water and fairway bunkers.
A tricky layout in excellent condition which is also very close to downtown Bangkok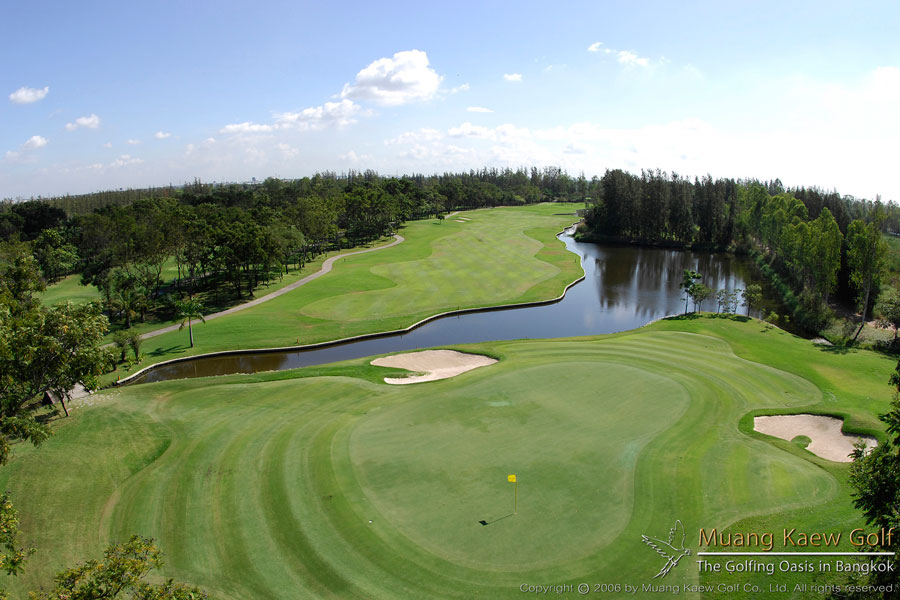 This challenging 18-hole course is well known for its wide and receptive fairways, elevated greens, high lipped bunkers and shaved fringes which have the potential to cause plenty of problems for everyone who tackles this course. The layout also offers great variety, including Par-3's with surrounded by intimidating water hazards. This is one course where the play just seems to get better by the hole. The back nine offers fantastic variety, starting with the exciting risk-reward par-5 13th, where players have a blind tee shot and an approach shot over a large and intimidating water hazard. For less experienced or shorter hitters, you can still perhaps chew off some of the dogleg to warrant a shot at reaching the green in two, although this requires a carry of around 150 yards over the water. The finishing hole is a deceiving par-5 where any approach shots short and right will have a watery ending into a blind pond guarding the green.
Despite the facility perhaps not being as visually impressive as some of its neighbouring courses, the service and catering more than make up for this, with some of the best food in the whole city. Golf carts are optional due to the course being relatively flat and easy to walk, and being one of the closest courses to Bangkok, makes for an easily accessible round.
Location: 20 minutes from both Bangkok and Suvarnabhumi Airport.
Birdies: Proximity to Bangkok, mix of Par-3's, 4's and 5's.
Bogeys: Can get crowded at weekends
Favorite hole: Par-5 13th with its blind tee shot.
An excellent modern course which could use a few more trees but very playable with challenging holes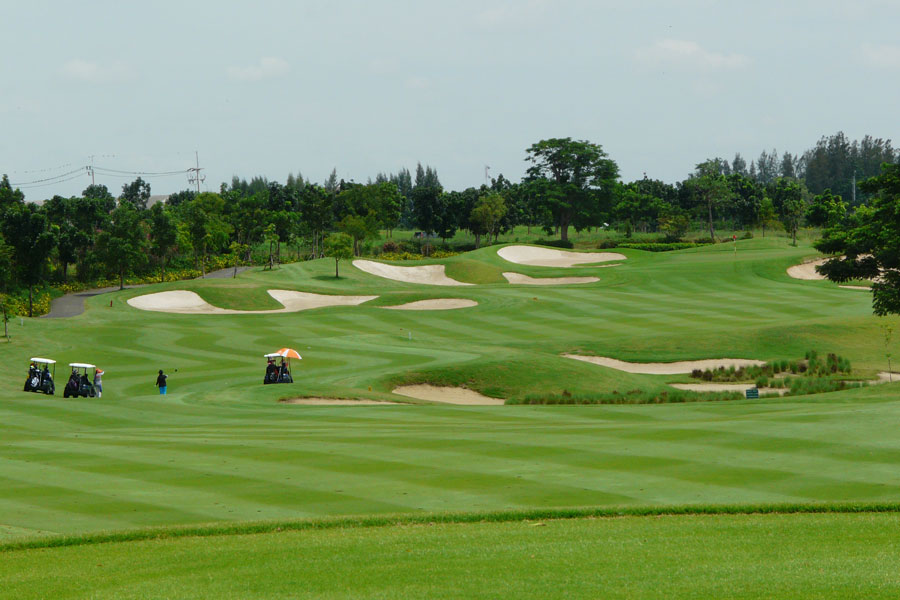 Despite at first not appearing to be one of the more challenging courses in Bangkok, the course is protected by the many bumps and hollows that surround most of the greens. Although the surrounding area is rather unattractive with factories and small villages, once you are on the course, the immaculate greens and gently rolling fairways quickly ensure that this is forgotten about. The contemporary clubhouse overlooks the 1st and 18th holes, and with challenges such as the Par-4 7th and hazardous Par-3 8th, you will certainly be in need of some refreshments come the end of your round. Elegant locker rooms provide for nice changing facilities characteristic of a 5-star private members golf club.
Location: 30 minutes from downtown Bangkok.
Birdies: Suitable for all standards of players, unique landscape
Bogeys: Not as visually pleasing due to its surrounding factories.
Favorite hole: Par-4 9th requires precise accuracy off the tee.
The grand old lady of Bangkok which hosted the World Cup of Golf but starting to show its age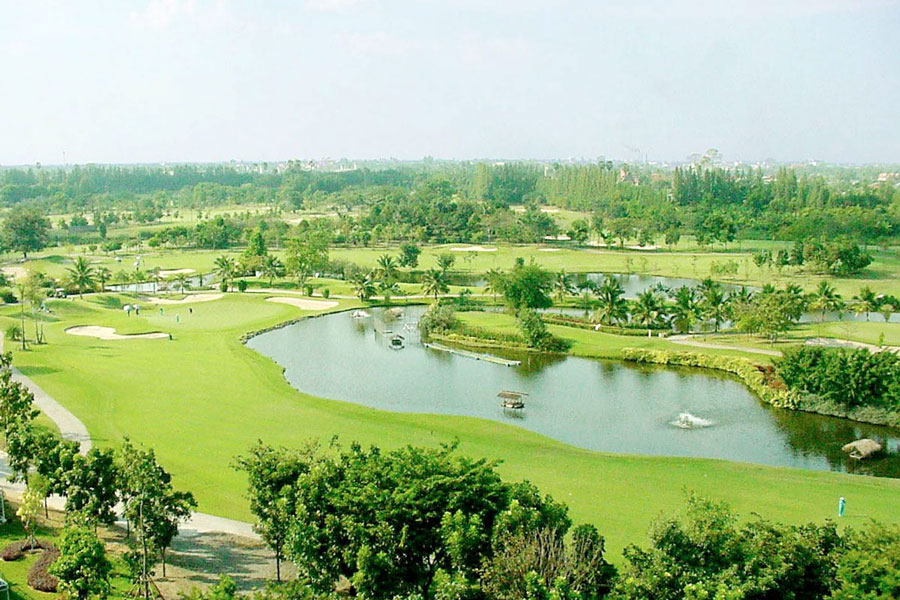 Host of the 1999 Thailand Open, as well as winning Golf Digests best course in Thailand in the same year, Navatanee is one of the oldest courses in Bangkok and as a result is surrounded by mature rosewood trees and Bougainvillea lining most fairways. Although this is still one of the top courses in Bangkok it is starting to show its age and could do with some renovation and upgrading. The course features some very difficult holes, including the Par-5 9th hole and it still offers an interesting challenge.
The clubhouse features an outdoor restaurant overlooking the 9th hole, and provides golfers with some of the best local food in the area. There is no driving range and the changing facilities are a little outdated. Navatanee is perhaps as close as you will come to finding a private country club in Thailand, and prices generally reflect this.
Location: 20 minutes from Bangkok centre.
Birdies: Rich in history, excellent selection of holes.
Bogeys: Courses is in need of renovation
Favorite hole: 445-yard Par-4 6th requires a draw from the tee.
So there you have our definitive guide to the best that Bangkok golfing. With so many great courses to choose from you will have a tough time making your final choice of which to play. Whichever you choose we are confident that you will have a wonderful golfing holiday in Bangkok.