Top quality golf courses, lovely climate & stunning beaches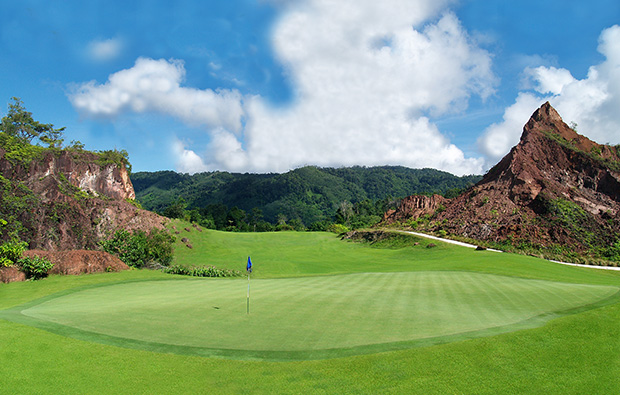 Phuket has risen in recent years, to become one of the best destinations for a golf holiday, not only in Asia but the world. The fabulous choice of and delicious cuisine has been attracting golfers to Phuket from all over the globe. Selecting accommodation can be daunting, with so many hotels and apartments available but the best choice for many golfers, is to book a stay at one of the tremendous Phuket golf resorts.
Whatever time of year you decide to book a golf holiday and stay at one of Phuket's golf resorts, you should have no problem getting on the golf course. The weather is hot throughout the year and between December and March, rainfall is at a minimum, meaning you will have long, pleasant days to enjoy the course and facilities at your Phuket golf resort. Even during the 'wet season' between May and October, much of the rain falls in the evening or night, allowing you to enjoy uninterrupted rounds of golf at the top Phuket golf resorts. Whatever time of year you decide book a round of a golf in Phuket, it will always be warm, so make sure you have plenty of fluids and keep hydrated on the course.
Thankfully, by booking a stay at any of the world class Phuket golf resorts we are about to introduce, everything will be on hand, including drinks and other refreshments, so you will always be prepared, however warm the weather.
Blue Canyon Country Club
One of the most prestigious golf clubs and resorts in the whole of Asia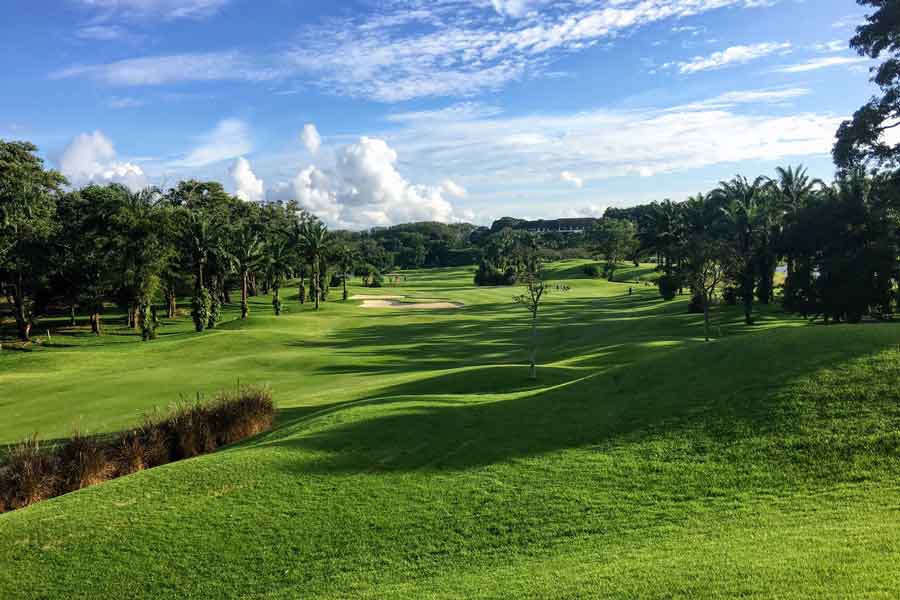 Blue Canyon Country Club, located at the north of Phuket island, is regarded as being one of the most prestigious golf clubs and resorts in the whole of Asia. The Blue Canyon Country Club resort is set to close to a mountain range and is home to two, multi-award winning championship golf courses. The Canyon Course, which was the first to be established at the resort, has previously hosted the Johnnie Walker Classic and witnessed one of the greatest players in the history of golf, Tiger Woods. With palm-oil tree lined fairways, elevated tee boxes, island greens and water hazards throughout, the Canyon Course is a great test for any golfer and very enjoyable.
The second course to be constructed was the Lakes Course and as the name suggests, there is plenty of water to contend with in the form of creeks and water-filled canyons. Having undergone a full renovation in 2006, the Lakes Course now matches the very high standard set by the Canyon Course and they combine to offer two of the best golfing experiences in Thailand and Asia. One of the key aspects about both the Canyon and Lakes Course, is the way they make use of the natural environment and landscape, with minimal changes.
To make the most of your time at Blue Canyon Country Club, its best to book a stay at the resort and this will allow you to play both golf courses. The boutique Golfers Spa Lodge consists of 42 rooms and is only five minutes' drive from Phuket airport, allowing you to get settled in immediately upon your arrival. The luxurious accommodation, with course, garden and sea views come with complimentary breakfast, tea/coffee, fruit and snacks. With an executive lounge, jacuzzi, plunge pool, steam room, sauna, showers and traditional Thai massage, fitness centre and swimming pool, you have everything on your doorstep.
If you are looking for the ideal Phuket golf resort to kick-off your stay in this region of Thailand, Blue Canyon Country Club is the perfect choice.
Mission Hills Phuket Golf Resort
This excellent Phuket golf resort offers a tremendous Jack Nicklaus designed golf course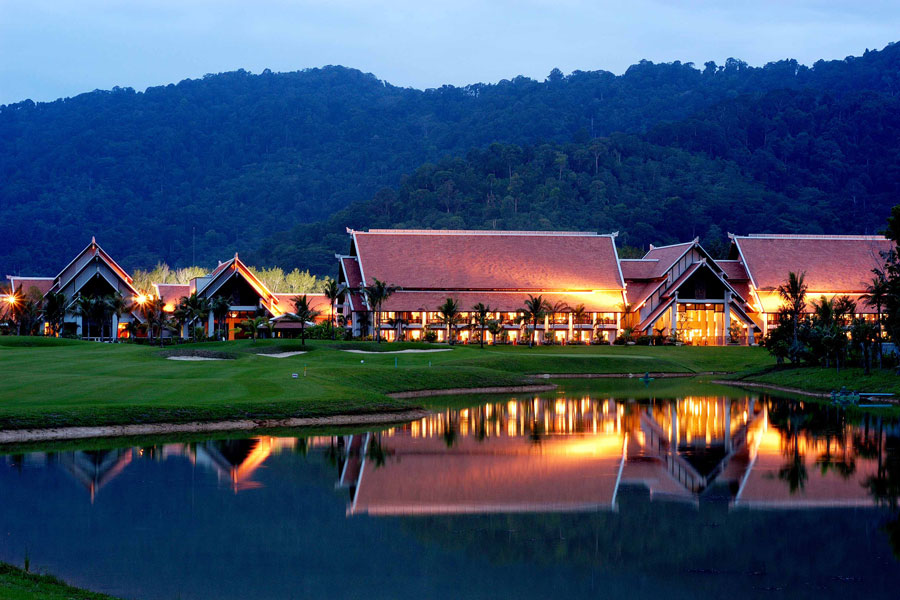 Staying in the north of Phuket but moving slightly east, you will find Mission Hills Phuket Golf Resort. This excellent Phuket golf resort offers a tremendous Jack Nicklaus designed golf course and aesthetically, it is very tough to beat. Featuring mangrove forests and stunning ocean views, several of the holes at Mission Hills play out over the Andaman Sea and you will feel as though you are part of the PGA Tour, it's that special.
With the blue ocean water, white sand bunkers and Bermuda grass fairways, the golf course at Mission Hills is an assault on the senses but with water coming into play on many of the holes, plus a regular sea breeze to contend with, you must be fully focused on your golf to achieve a low score. The signature hole is the 12th, which is the longest par-4 on the course and you must make two, long and straight shots, if you are to make the green in regulation. From the back tees, shots must carry at least 250 yards and find the left side of the fairway but with a choice of tee boxes, every golfer will have fun playing this hole and the course in general.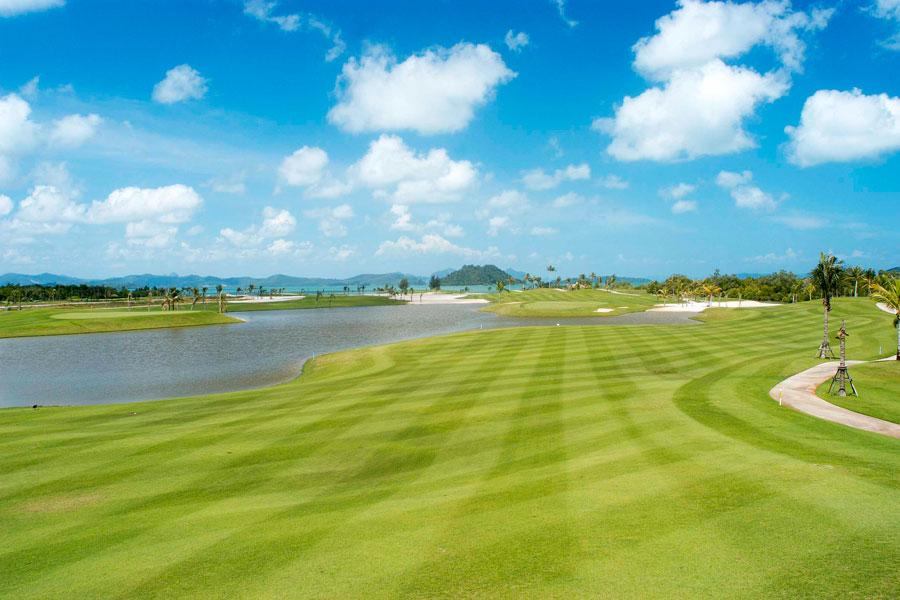 The accommodation facilities at Mission Hills Phuket Golf Resort include a choice of three different rooms styles. You can opt for the deluxe room, mini suite room and executive suite room, each of which come complete with luxurious comforts and border the golf course. Views from the rooms include the golf course and outdoor swimming pool, so if you would like to wake up in the morning and see the course in all its glory, you can do just that.
In addition to the swimming pool, which comes complete with bar, you can enjoy table tennis, table football or a private jacuzzi session. Having sampled the golf course, you will want to refuel and there is no better place to do that than Nibblers Restaurant, which offers both Thai and Western cuisine. Why not try their speciality of honey roast duck served on a bed of steamed rice accompanied with fresh young kale dressed in oyster sauce followed by a traditional Thai dessert? It's delicious.
Throughout the day, sandwiches and salads are served at the resort, with hot and cold drinks available at the patio café. So, if you fancy a round of golf in the morning, you can easily return to the resort for food and drinks. However, you can also ask for food and drinks to be brought out to you during your round, which is a nice touch.
Mission Hills Phuket Golf Resort is home to one of the most picturesque golf courses in the region and this combines with a first-class resort, to offer a tremendous golfing experience. When looking at which Phuket golf resorts you should book, Mission Hills must be at the top of your list.
Tinidee Golf Resort Phuket
Comfortable accommodation and a choice of two great golf courses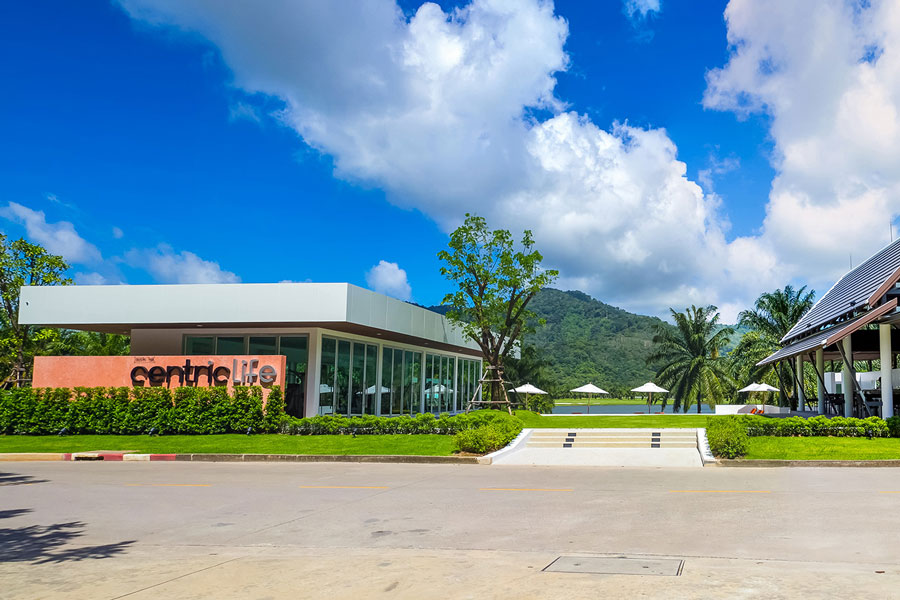 Heading towards the centre of the island, you will find Red Mountain Golf Course, which is regularly voted as being Phuket's most spectacular golf course. This Johnathan Morrow designed course, which opened for play in 2007, combines with Loch Palm Golf Club, to create Tinidee Golf Resort Phuket.
The Tinidee Golf Resort can be found just 15 minutes away from Patong, a beach resort town on the west coast of the island. With a lovely crescent beach and a coast line full of cafes, restaurants and bars, Patong is a good place to stay for a couple of days, before heading to Tinidee Golf Resort. If you want to go straight to the resort, having arrived at Phuket airport, it's just a 45-minute drive, so you will be there in no time, ready to relax and enjoy some great golf.
Red Mountain Golf Club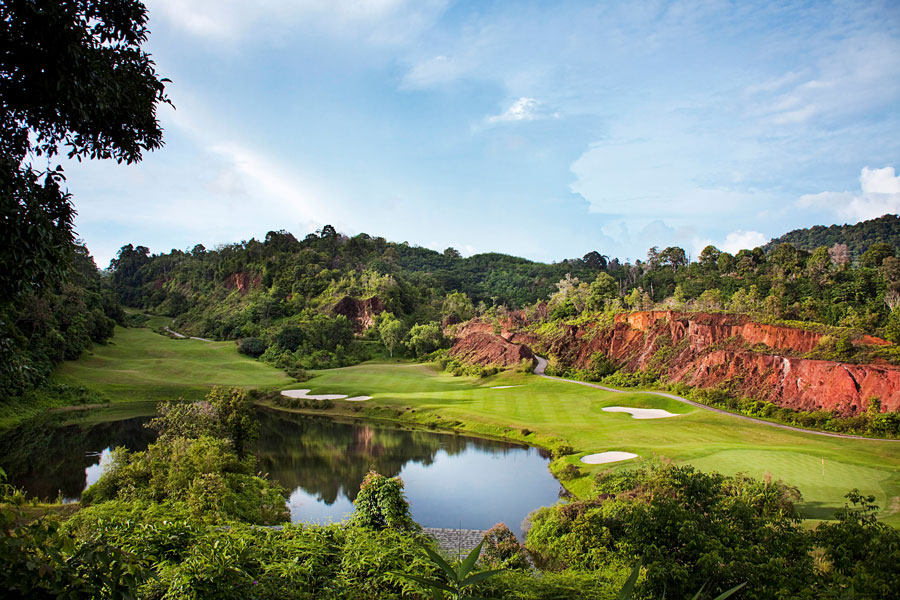 Red Mountain is the pick of the golf courses at Tinidee Golf Resort and features dramatic elevation changes throughout the 18 holes, making it Phuket's most hilly golf course. This golf course provides a nice little insight into the history of Phuket's old tin mines, as it is located on a former tin mine site and the soft red rock is what gives the golf course its name. You will see steep cliffs cut out of the hills and old canyons have been flooded with water, which frame several of the holes nicely. Every challenge you could wish to face when playing golf is offered by Red Mountain, including water, wind, sand and slopes and you must be on your game, if you are to avoid droppings shots.
Being the highest golf course on the island of Phuket, Red Mountain is full of cracking views and you will be tempted to reach for your camera on more than one occasion.
Loch Palm Golf Club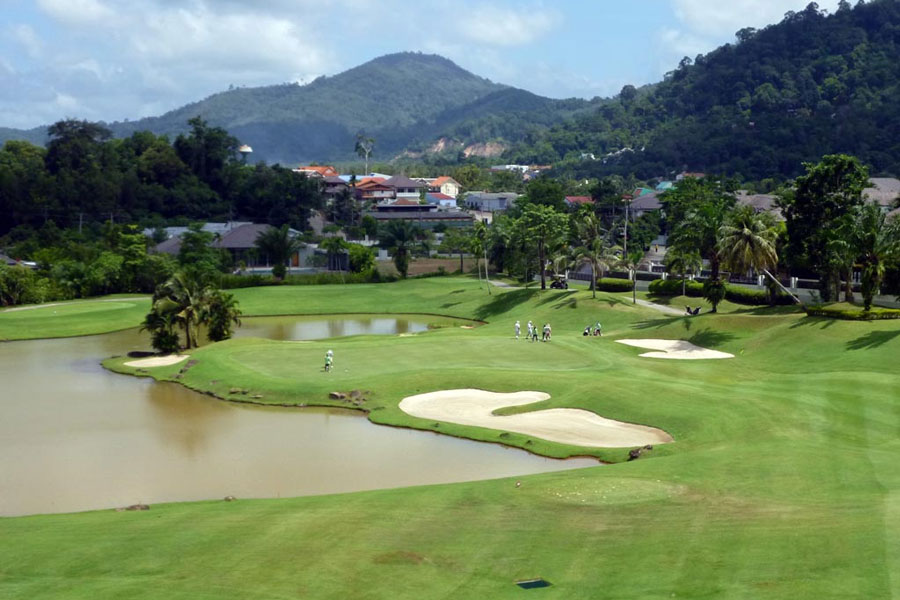 The second golf course at Tinidee Golf Resort is Loch Palm, which was designed by Dr. Sukitti Klangvisai and opened for play in 1993. Measuring in at 6,555 yards from the back tees, Loch Palm is one of the shorter golf courses in Phuket and weaves its way through jungle-clad hills, on gently undulating fairways. As one might expect from the name, a large lake plays a central role on this golf course and if you keep your ball dry through the front nine holes, you are doing well. In contrast to the opening nine holes, the back nine have less water to worry about but the fairways become tighter and the holes more undulating. As you play your way down the back nine, you will notice many villas on the edge of the fairway. While your focus on the golf course will be to avoid the accommodation, you should seriously think about booking a room at Tinidee Golf Resort Phuket and making the most of your time at the resort.
There's a choice of two room types at Tinidee Golf Resort, Superior room and Deluxe room. The Superior rooms each measure 36 square meters and offer superb lake views. The Deluxe rooms come in at 44 square meters, featuring beautiful Southern Thailand décor and magnificent views of the lake. So, whichever room you book, you are guaranteed a lovely spot over-looking the lake and a nice balcony which will allow you to sit out and enjoy the nature from the privacy of your own room. Every room comes complete with a king size and single bed, luxurious bathroom amenities, satellite television, free Wi-Fi and coffee making facilities. There is also an on-call massage service available, so if you really want to unwind following a great day of golf, why not make a booking?
In addition to the two first class golf courses, there are several excellent facilities and activities available during your stay at Tinidee Golf Resort Phuket. The tremendous outdoor infinity edge salt-water swimming pool offers magical views over Golf Green and the expansive Loch Palm Lake and is the perfect place for a relaxing swim. A snack bar is available next to the pool, so you do not have to interrupt your swim if you would like a drink or something to eat. If you would like to do something a little more energetic away from the golf course, the fitness room will keep you both busy and fit.
If you would like to leave the resort for a little while, why not make use of the shuttle bus service? This will take you to Patong beach and you can spend a nice afternoon sunbathing or go for a swim in the welcoming ocean. Again, if this sounds a little too mundane for your taste you could always head for the tour desk and book a sightseeing trip. Phuket is an island full of wildlife and scenery, which makes it great for exploring and a tour guide will show the best it has to offer.
In terms of dining, you have two excellent options at Tinidee Golf Resort Phuket. The first is the Loch Palm Restaurant, which offers a Thai and European style al a carte menu and fantastic views over the lake. The second dining option is the Tin Cup Restaurant and this is part of the Red Mountain Golf Course. So, if you are planning a round of golf on Red Mountain, you should book a table at Tin Cup, which is located above the 18th green.
Tinidee is one of the top Phuket Golf Resorts. With two great golf courses, luxurious accommodation, a swimming pool and two restaurants, Tinidee Golf Resort Phuket is a fantastic place to stay and play golf.
Phuket Golf Villas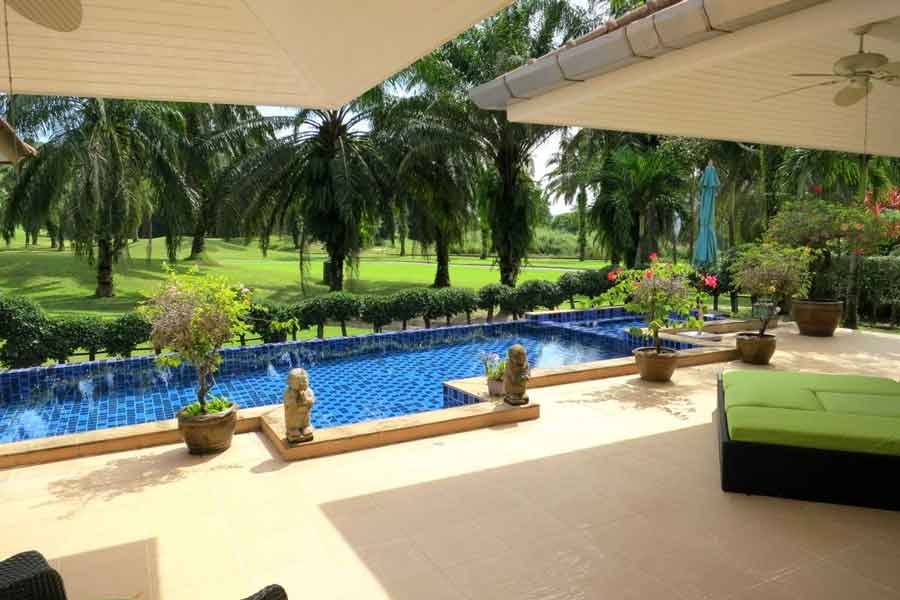 Another great Phuket golf resort, located just 25 minutes from Patong Beach, is Phuket Country Club, the home of the island's oldest golf course. Aptly named the Old Course, you will enjoy the opportunity to play a resort style course, which offers plenty of chances for low scoring throughout. The most famous hole in Phuket is on the Old Course and features a tee shot from an elevated position, over water to the green. In addition to the 18-hole Old Course, there is a 9-hole championship layout course to enjoy.
If you would like to stay at Phuket Country Club for a long weekend, a week-long holiday or perhaps even longer, you must see their selection of luxury villas. There are several villas available, some to rent and others to purchase and they are enviably positioned alongside the golf course. Whether you want a two, three or four-bedroom villa, with shared or private pool, you will find it at Phuket County Club. Natural light plays a big role in the design element of these villas and large glass windows and doors allow light to flood into the building, giving a bright and airy feel to every room.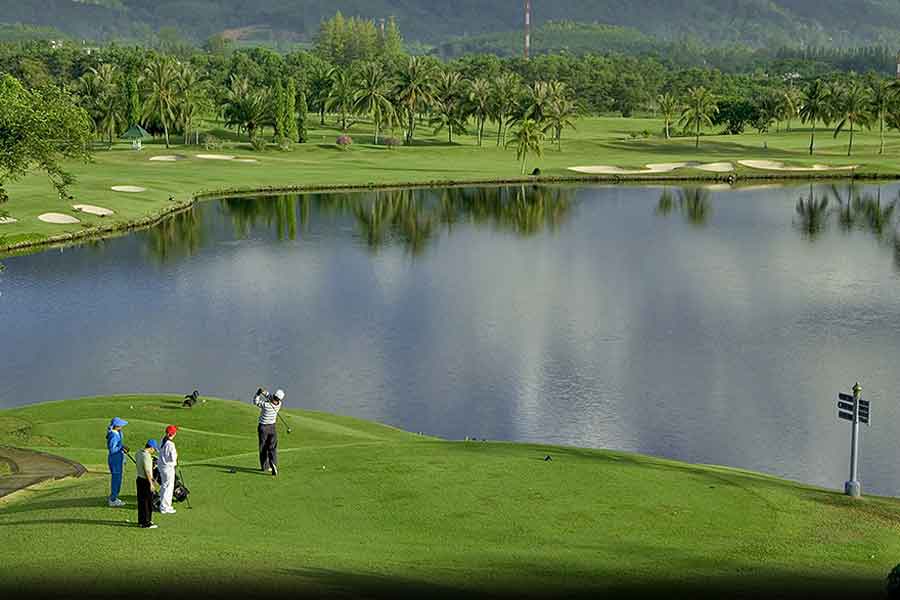 However, nothing beats the views of the Old Course and by staying in a villa at Phuket Country Club you will be treated to the very best. Imagine waking up every morning to see one of Phuket's most beautiful and established golf courses out of your window or from your balcony as you eat breakfast. It doesn't get any better than that.
Thanks to the luxurious villa accommodation alongside the golf course, Phuket Country Club has become one of the best Phuket Golf Resorts available and every golfer should experience the thrill of staying in a fairway villa.
When planning a golf holiday in Phuket, you are spoilt for choice. There are many Phuket golf resorts to choose from but we believe the ones highlighted above offer the best combination of accommodation, facilities, service and golf.