Phuket has some of the best golf courses in Thailand which have hosted some major global golf tournaments
Click here to see all Phuket green fees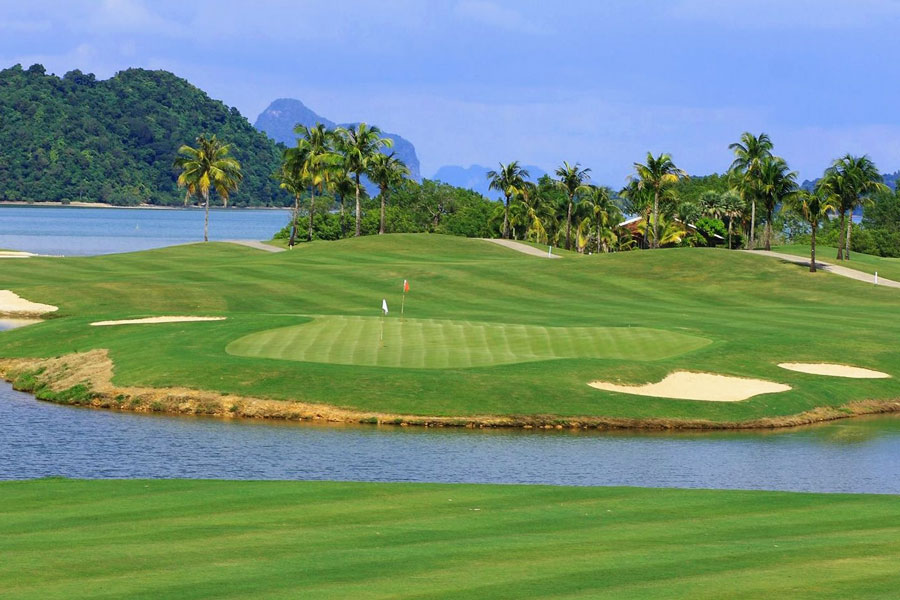 Phuket is Thailand's largest island and is connected to the Thai mainland via two road bridges which span the Andaman Sea.
Thanks to the size of the island, which measures 48km in length and 21km at its widest plus the easy connections to the mainland, Phuket has developed several world class golf courses and you only need to make a quick online search for 'Phuket golf course reviews' before you begin to understand the quality of golf which is available on the island.
Phuket is split into four regions which are Western Phuket, Souteastern Phuket, interior Phuket and the smaller islands which surround it in the southeast and along Phang Nga Bay.
The island was once on a major trading route between India and China and has a rich colourful history. However, more recently Phuket has enjoyed a great boom in tourism and this seen a lot of money come into the area, some of which has been thanks to the development of the magnificent golf courses.
With the Phuket International Airport, you can enjoy direct flights to the island from many countries around the world and this has helped in making the island a hot-spot for golf lovers.
Talking of hot-spots, something Phuket is known for is its warm climate and you will find the best weather for playing golf to fall between November and February. The weather is cooler during these months and makes golf a more enjoyable experience than the hot months between March and early May.
So, with that in mind, its time to highlight all the great golf courses you can look forward to playing on the island check out the fantastic Phuket golf course reviews.
It's lost a bit of its shine but the Canyon Course is still one of the best layouts in Thailand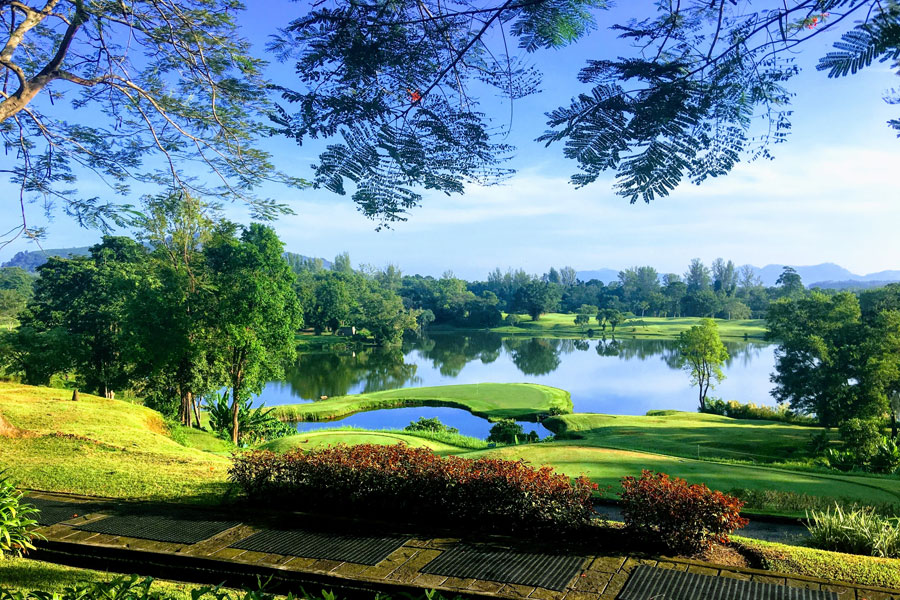 Blue Canyon Country Club used to be the top golf course in Thailand and one of the best in Asia but over the last few years, due to numerous ownership changes and lack of investment the entire club has seriously deteriorated. As I write this in late 2020 the course is undergoing a major refurbishment which we hope will restore the course to something like its former glory.
The Canyon Course is a true championship golf course, with narrow fairways and very quick greens. The course has hosted some of the biggest golfing events in Asia with Tiger Woods and Greg Norman to name but two famous names who have played on the Canyon Course. However, the best way to judge the course is by reading the reviews and there is one review which sums the Canyon Course up nicely.
Despite the fact that the maintenance of the course has, in recent years, not lived up to its status as a championship course it still remains the best layout in Phuket and one of the best in Asia and will provide a stern test of every aspect of your golfing game. To score well you must keep the ball on the fairway and the rough can pe punishing and you do not need to be very far offline to get blocked by the trees or overhanging branches.
The short, par 3's, are particularly challenging and are all in excess of 200 yards from the back tees and you will certainly feel the tension as you stand on the elevated 14th tee and survey the green totally surrounded by water. The 17th, which is the other short hole on the back nine, was described by Gary Player as the best short hole he had ever played and has water all the way along the right-hand side with a deep bunker protecting the green. The other hole which everyone remembers is the 13th which is a dogleg par-4 which demands a 200-yard carry to reach the safety of the fairway. There is a plaque in memory of Tiger Woods who famously drove the green during the Johnnie Walker challenge - recently one of the local professionals went one better and achieved a hole in one on the same hole.
Another challenging course with water in play on all but three of the holes - take plenty of balls!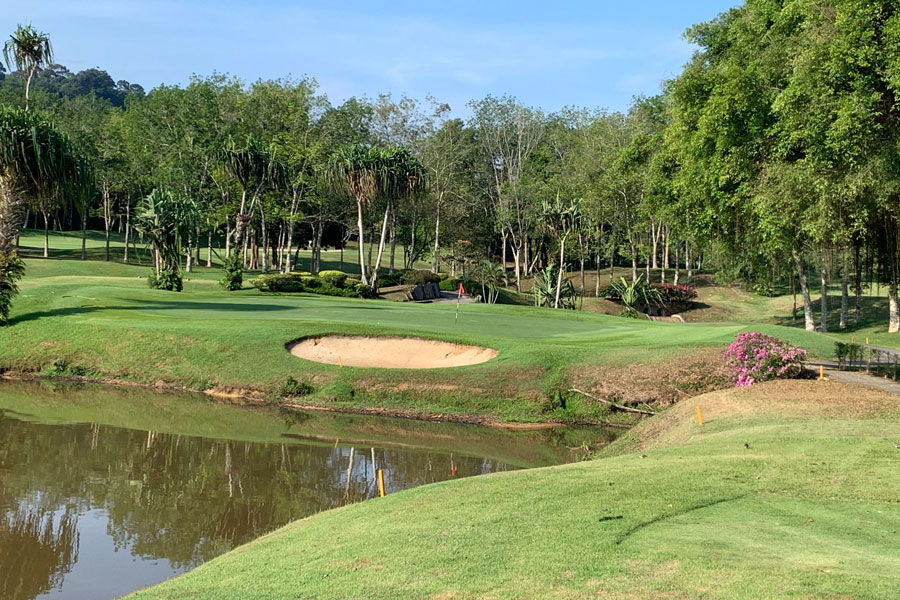 There is a choice of two golf courses at Blue Canyon called the Canyon Course and the Lakes Course and they both feature heavily at the top of Phuket golf course reviews.
If you enjoy nothing more than a great set of finishing holes, then the Lake Course at Blue Canyon Country Club is the one for you. With water coming into play on almost every hole, the course is a good challenge and always kept in great condition. One reviewer on the website commented, 'A very good layout with well-kept fairways and greens that had us guessing' in addition to praise for the caddies by saying 'The caddies were outstanding and we had a lot of fun and we would definitely return here to play again.'
You simply cannot leave Phuket without playing here - one of the best courses in Asia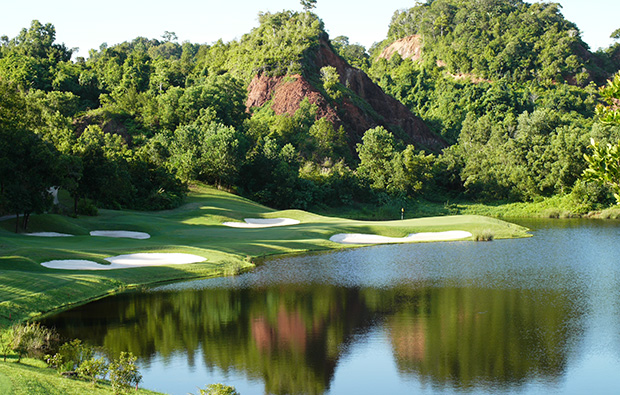 A recent review on the website by Michael sums Red Mountain up in one simple sentence, 'I have played golf courses all around the world red mountain is the best I've ever played!'
The positive comments don't stop there, with reviews including 'The best course I have played as an overall experience the course condition was unreal' and 'Red Mountain was out of this world. Extremely expensive but one of the most visually stunning rounds of golf that I have ever had the pleasure of playing.'
It may not be the cheapest golf course in Phuket but Red Mountain, with its red rock, undulating landscape, dense jungle and immaculate yet testing golf course, is one round of golf in Phuket you simply cannot miss.
Red Mountain Golf Club consistently appears at the top of Phuket golf course reviews and it is easy to see why.
An excellent resort course which has been totally remodelled and is perfect for golfers of all standards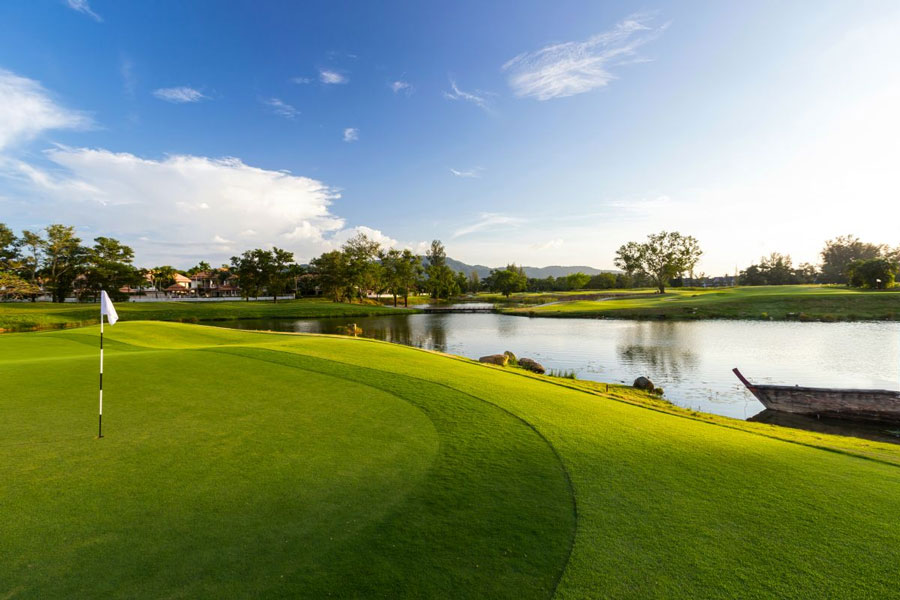 If you are interested in following in the path of the professional golfers in Phuket, you must head to Laguna Golf Phuket, which successfully hosted the 2009 Thailand Open golf championship.
This course was recently renovated and redesigned and while it may not provide much of a test in terms of length, the strategically placed bunkers and water make Laguna Golf Phuket a good challenge for players of all abilities.
While Laguna Golf Phuket may not be at the top of everyone's list who visits the island to play golf, one glance at a couple of Phuket golf course reviews will soon have everyone adding this course to their itinerary.
'Great efforts have been made with the landscaping and the course is really very pretty. Excellent practice areas and one important point is that you no longer have to walk as they have also installed cart paths,' said Coovie and Steve added in 2016 'Laguna Club a hidden gem, much better than I anticipated.'
So, if you looking to play a golf course which not be at the top of everyone's list while in Phuket but will give you great satisfaction, both on and off the course, you owe it to yourself to book a round at Laguna Golf Phuket.
An old favourite still in good condition and not too long which is just as well as it's a walking course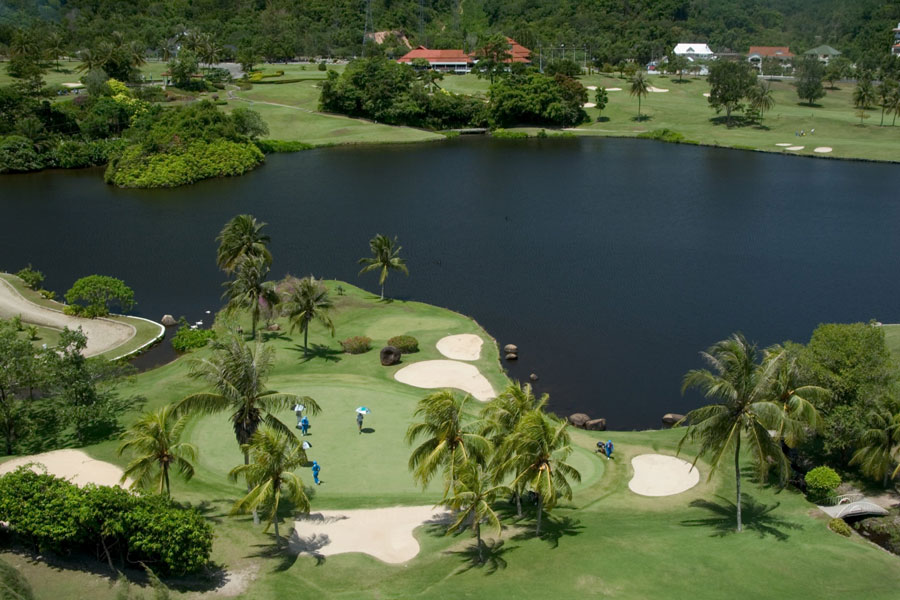 If you would like to get back to where golf really started on Phuket, then you should book a tee time at Phuket Country Club.
This was the first championship standard 18-hole golf course built on Phuket and can be easily found in the centre of the island. Despite being one the oldest golf courses in Phuket, having opened in 1989, Phuket Country Club has maintained very high standards throughout the years and is a great place for high handicap golfers to start playing golf in Thailand.
The course is not particularly long or difficult, with the front nine holes proving the more testing, as the back nine are more open and play flatter. It has played host to some important Asian and Thai golf tournaments over the years, covering both the men's and the ladies game.
Phuket golf reviews have plenty of good things to say about Phuket Country Club including how well trained and hardworking the caddies are on the course and how well maintained and cared for both the fairways and greens have been over the years.
Some of the best views from any Phuket golf course but course condition is inconsistent - especially after rain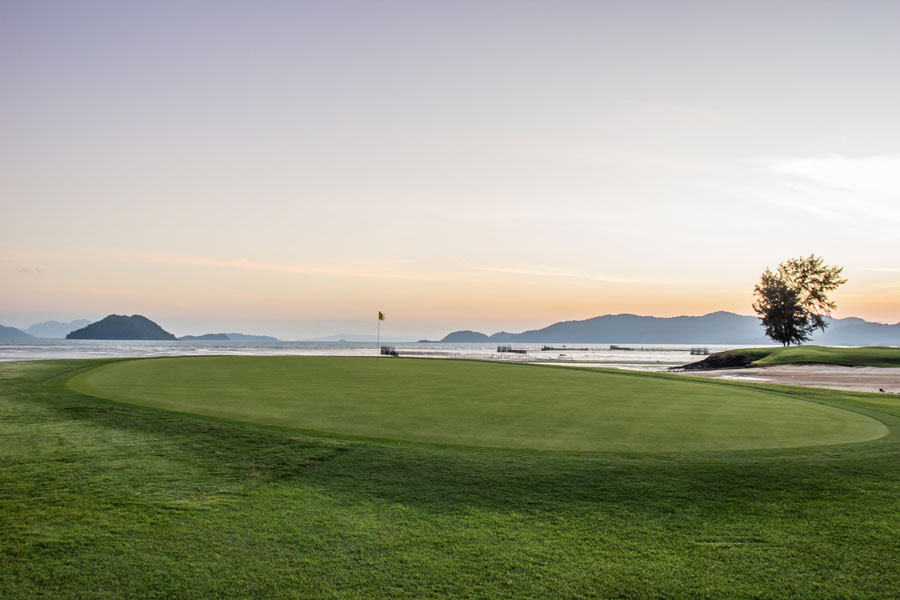 From one of the original golf courses on Phuket to one of the most modern and you must play a round of golf at Mission Hills Phuket Golf Club Resort and Spa during your stay on the island.
This golf course was designed by Jack Nicklaus and is one of the most picturesque golf courses in Thailand. Situated on the northeast cost of Phuket, the course provides tremendous ocean views and is surrounded by mangrove forests, meaning it can be tough keeping your eye on the ball throughout the 18 holes.
However, when the sea breezes pick up, you must be on top of your game if you are to come away from Mission Hills Phuket with a low score. Large white sand beach bunkers and water which comes into play on several holes will gladly swallow up anything which is off line.
The course has come in for some criticism from recent players, with this review from Heiko on 7th February 2017 being a good example, 'The upkeep of the greens and fairways is not up to the standards of some of the other courses in Phuket. We still enjoyed the round and the views from the seaside holes were wonderful.'
Its important to keep in mind the weather conditions when playing some of the golf courses on Phuket and if there has been a very wet summer or extremely dry cooler period, this can make the course more difficult to maintain. However, although Mission Hills Phuket Golf Club Resort and Spa may not always live up to expectations in terms of conditioning, the views and course setting are something to behold.
Katathong Golf Resort and Spa
Wonderful surroundings and an interesting layout which higher handicappers might find challenging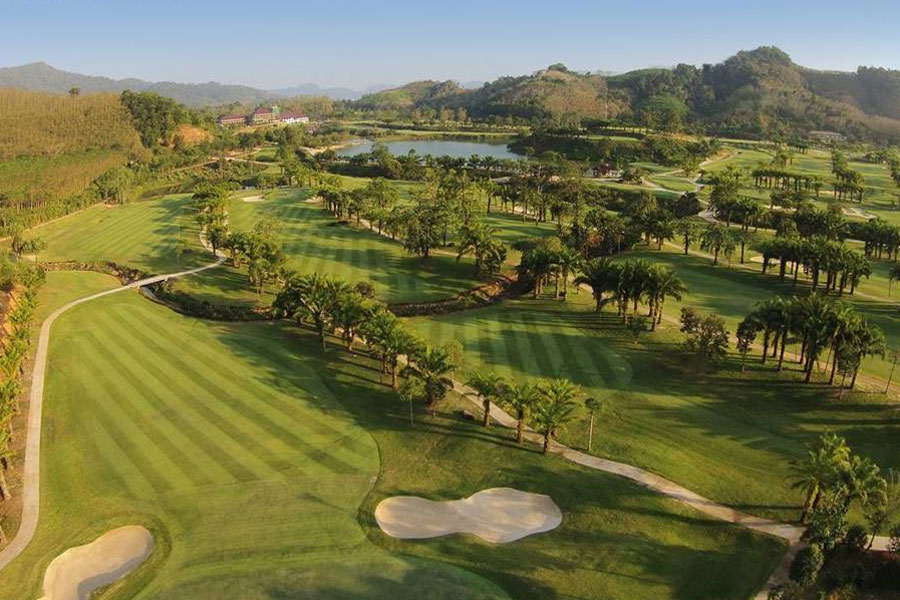 One of the more recent golf courses on Phuket to open can be found just one hour form the airport and is called Katathong Golf Resort and Spa. This Phuket golf club opened in 2015 and has earned a reputation for being one of the most difficult golf courses on the island.
The mountain views are very rewarding but with narrow fairways and significant elevation changes, accuracy and club selection must be spot on to score low. However, despite being one of the toughest courses on the island, Katathong Golf Resort and Spa is rated very highly by Phuket golf course reviews.
Karen, who left a review on the website in April 2016 commented, 'This is a great layout and was in excellent condition when I played with perfect fairways and well-maintained greens and bunkers. We were made very welcome by all the staff. This course is as good as anything in Thailand and set in beautiful surroundings.'
Reviews do not come any better than that and if you haven't already, you must add Katathong Golf Resort and Spa to the top of your list when planning a golf holiday in Phuket.
Another old favourite which is fun to play if you can avoid the water - greens can be inconsistent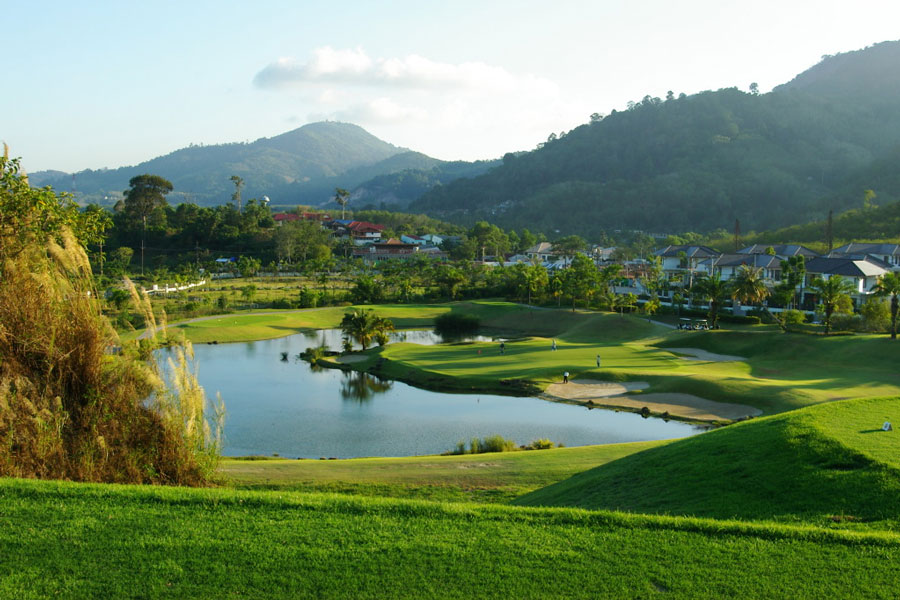 If playing golf with the locals sounds like something you would like to do, then head to Loch Palm Golf Club, which is located just 15 minutes from the famous Patong and Karon beaches.
While not being the longest golf course on the island, you are treated to a very consistent golf course which will give you one of the best playing experiences of your entire trip. It is a parkland style layout with palm trees dotted around the course, framing some of the holes but never overcrowding the golf course.
The front nine are played for the most part alongside a large lake and keeping your ball out of the water is often the main objective. The back nine holes at Loch Palm Golf Club offer a tighter feel, with undulating fairways and greens providing the main challenge.
Look out for the 14th hole, which is a par-3 played downhill to a green surrounded by water on three sides.
Loch Palm Golf Club is renowned for providing a great value round of golf and Liam agreed in his review by saying, 'Golf in Phuket is more expensive than other areas of Thailand but Loch Palm offers good value. The course is in good condition and the greens generally fast although the speeds did vary from green-to-green. The caddies are excellent and generally gave sound advice.'
So, if you are looking for a great value round of golf on Phuket, with a course in good condition and very knowledgeable caddies, Loch Palm Golf Club should come high on your list.
Tublamu Navy Golf Course
Don't expect too much but its a fun day out - great value and some interesting views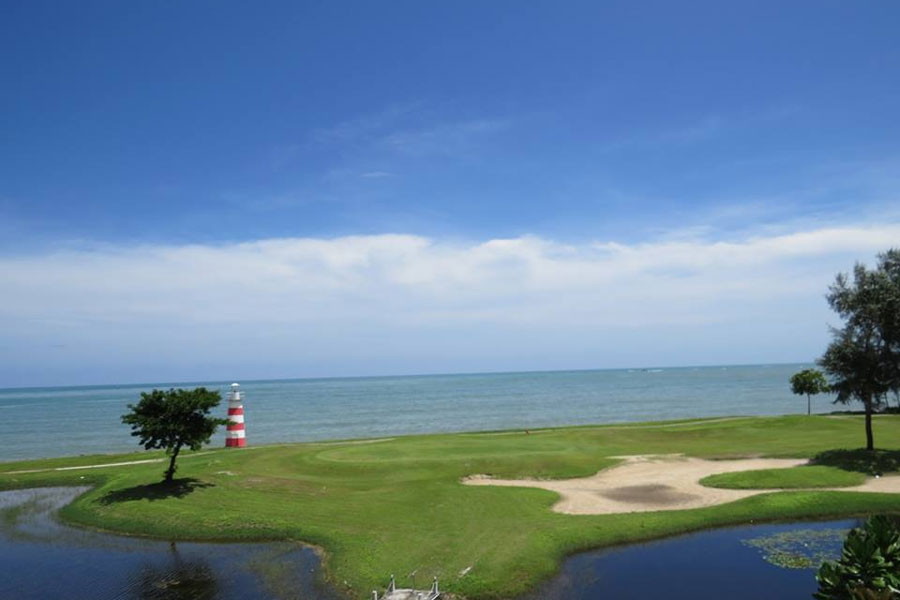 Finally, when looking at Phuket golf course reviews, you are sure to come across Tublamu Navy Golf Course, which is owned by the Royal Thai Navy and open to the public. This Phuket golf course expanded from 9 to 18 holes in 2002 and is regarded as being one of the safest golf courses in the word, thanks to the soldiers standing guard.
Tublamu Navy Golf Course certainly provides a unique experience and according to one recent visitor to the course, 'It has an old-world charm to it with very natural surroundings and three very picturesque holes running beside the sea. Excellent value and the caddies were polite and helpful.'
If you have time, Tublamu Navy Golf Course would make an excellent addition to a golf holiday in Phuket.
When planning a golf holiday on the picturesque island, you should always take time to read our Phuket golf course reviews and choose the courses which best suit what you are looking for from your Phuket golf holiday.