The great thing for those who are looking to organise a Hua Hin golf tour, is the number of top quality golf courses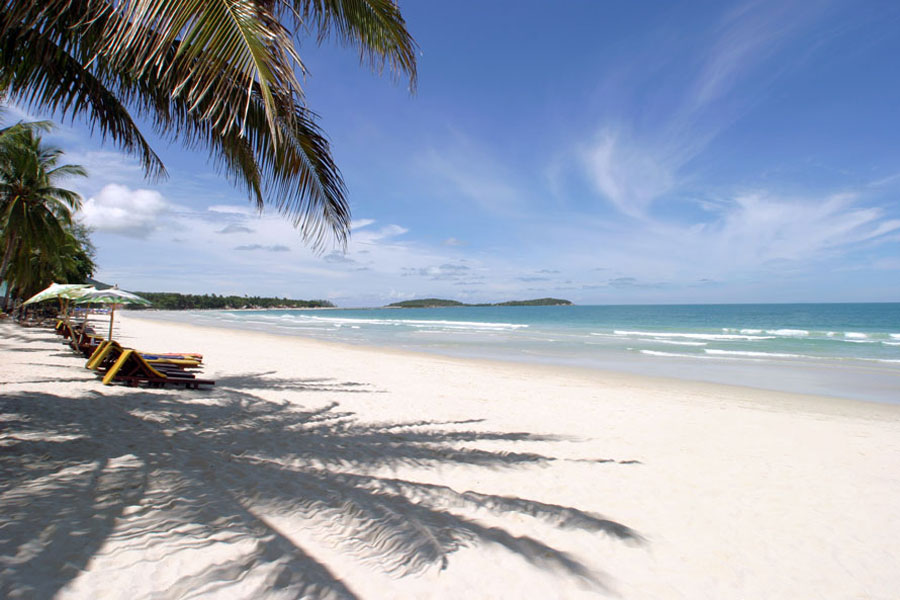 Thailand is a very popular country for visitors and it is easy to see why. The tremendous climate, gorgeous sandy beaches, clear blue sea, lush tropical rainforest, friendly people and great food combine to make Thailand a heaven for tourists and Hua Hin is no different.
To look at Hua Hin today, you wouldn't believe it started life as a small fishing village before developing into the seaside resort enjoyed by both local people and visitors alike. However, although Hua Hin has developed a lot in recent years, it has kept much if it's character and charm, thanks to the local government, who are keen for it to remain as traditional as possible, while catering for visitors.
The great thing for those who are looking to organise a Hua Hin golf tour, is that the number of top quality golf courses in Hua Hin has increased over the past few years. There are now several international standard golf courses to enjoy in the Hua Hin region and this makes it a great place for a golf tour and it helps that Hua Hin golf green fees are still very reasonable. However, the first thing to check when arranging a Hua Hin golf tour, is the weather and the best time to play golf in this region of Thailand is between November and February.
Golf Weather in Hua Hin
November to February are the driest months of the year, making it the perfect time for organising a Hua Hin golf tour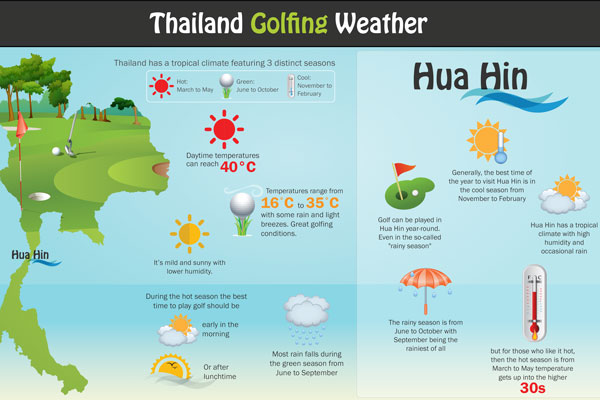 The weather is very pleasant between November and February in Hua Hin and these are the driest months of the year, making it the perfect time for organising a Hua Hin golf tour. You will need to make sure you have sunblock with you at all times and plenty of water, as the sun will be out for much of the day. Always keep sun cream and water in your golf bag and make this an important consideration for all members of your party when taking part in a Hua Hin golf tour.
The period between March and May is the hottest time to visit Hua Hin and the sun is stronger than during the winter months. You may find playing golf in Hua Hin quite difficult during these months, as outdoor activities tend to become uncomfortable due to the excess heat. However, if you are used to hot temperatures and don't mind wearing a hat and sunglasses, which a lot of golfers do anyway, the months between March and May can be a good time for a Hua Hin golf tour. Furthermore, you can always arrange your rounds of golf to be early in the morning or later in the evening, when the temperatures are more manageable.
The third season experienced in Hua Hin falls between June and October. This is known as the rainy season due to the increased amount of rainfall throughout the four months. Some days the rain will be in the form of a light shower but at other times it can be very heavy and this can lead to plenty of standing water being left on the ground. When planning a Hua Hin golf tour at this time of year, you must be prepared for the wet weather and the possibility you may not be able to play golf every day. If you are happy to take the risk of playing golf in Hua Hin between these months, you will be rewarded with cheaper rates, both in terms of green fees and hotel prices. If you are travelling from a different country, flight prices will also be lower between June and October, making it a good time to visit for the budget traveller.
Travelling to Hua Hin
Best option is to arrange a collection at Bangkok airport, which will take you directly to the accommodation of your choice in Hua Hin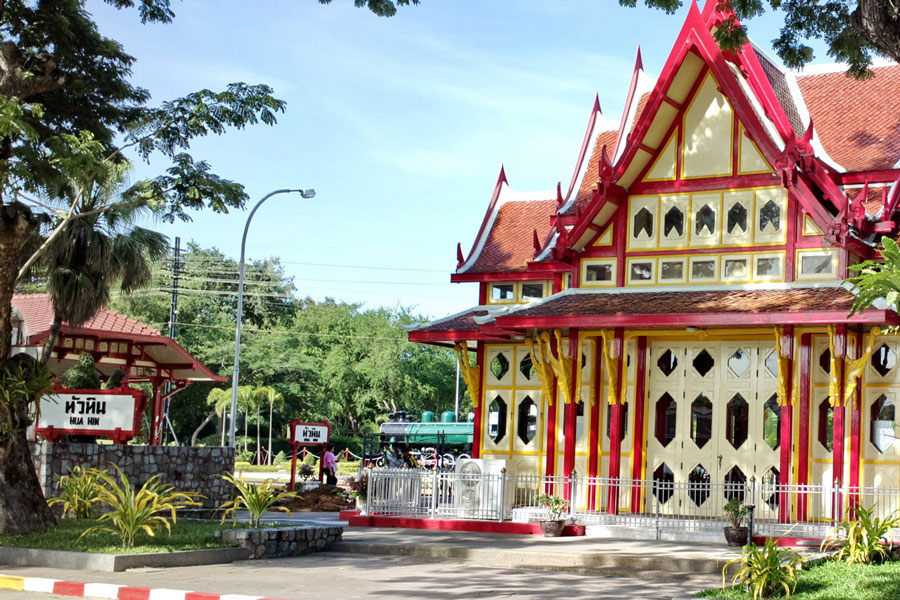 When looking at how to organise a Hua Hin golf tour, transport is an important consideration. There are not many direct flights to this region of Thailand and many people choose to fly into Bangkok, before making their way to Hua Hin. Upon arrival to Bangkok, you can catch a train, which arrives in the centre of Hua Hin, thanks to the lovely traditionally designed station. Other options include the bus, with the non-stop VIP coach service being the best option, as this comes with comfortable seating, bathroom facilities and plenty of space to store golf clubs. The journey takes around 3.5 hours in moderate traffic but if you would prefer, you could always rent a car and keep this throughout your Hua Hin golf tour, making access to all the golf courses more convenient. There is also the option to arrange a collection at Bangkok airport, which will take you directly to the accommodation of your choice in Hua Hin.
Golf Resorts & Hotels in Hua Hin
Most of the Hua Hin golf courses are 20-30 minutes from the town centre, so staying in beach-front accommodation is ideal
In terms of accommodation, you cannot get much better than one of the beach-front resorts in Hua Hin. With many of the Hua Hin golf courses reachable within 20 minutes from the town centre, staying in beach-front accommodation is ideal when arranging a Hua Hin golf tour. There is a great selection of traditional Thai style accommodation and international five star resorts, so you can select which property best suits your requirements or maybe stay in more than one during your time in Hua Hin. If you choose to stay in more than one form of accommodation, why not opt for a couple of days at a golf resort? There are some fantastic golf resorts to choose from in Hua Hin, one of the best being Black Mountain Golf Club.
Whether you choose to spend a few days staying in a golf villa at Black Mountain Golf Club or not, you must add this golf course to your Hua Hin golf tour. The resort is a great place to stay, offering villas and apartments, in addition to a supermarket and water park. However, it is the golf course at Black Mountain which is the real draw and it is ranked highly among all the golf courses in Thailand and Asia. Designed by Phil Ryan and opened in 2007, Black Mountain has played host to Asian PGA Tour events and the Thailand Classic, which is the first European Tour event to be staged in Thailand.
The course itself is set in a valley, on former pineapple plantations and is surrounded by black granite rock. The natural features of the land have been kept intact throughout the golf course, with black rock and small creeks used in the design of several holes. New trees have been planted and add to the original trees around the course, which is a test for professional and amateur players alike. Many of the holes are risk/reward, meaning you can play safe if you wish and attempt to play for a solid par or be more adventurous and play a risky shot but with the potential for a lower score. The fairways become narrower the further they stretch away from the tee, which makes Black Mountain a test for the longer hitters in your tour group. The greens are well protected by bunkers and most are quite large, offering a choice of different pin positions.
Perhaps the pick of the holes is the signature 11th hole, which is a par-3 over water, to an island green. There is no bail out area on this hole, so accuracy off the tee is a must and the pressure is ramped up when you play your shot. Select the correct club and you could be in for a birdie opportunity, make a mistake and you must make use of the drop area to the left of the green.
Having successfully completed a round of golf at Black Mountain, why not head into the clubhouse and enjoy a delicious meal in the restaurant? The views from the clubhouse are stunning and it's a great place to relax and have something to eat following your round. Every Hua Hin golf tour should take in Black Mountain Golf Club and as mentioned above, you can stay in the resort, if you would like to play the golf course more than once.
Hua Hin Golf Courses
It's also worth checking if there are any Hua Hin golf promotions and if you can time your visit to coincide with the Hua Hin Golf Festival which usually takes place in August & September each year then you can save yourself a bundle of money.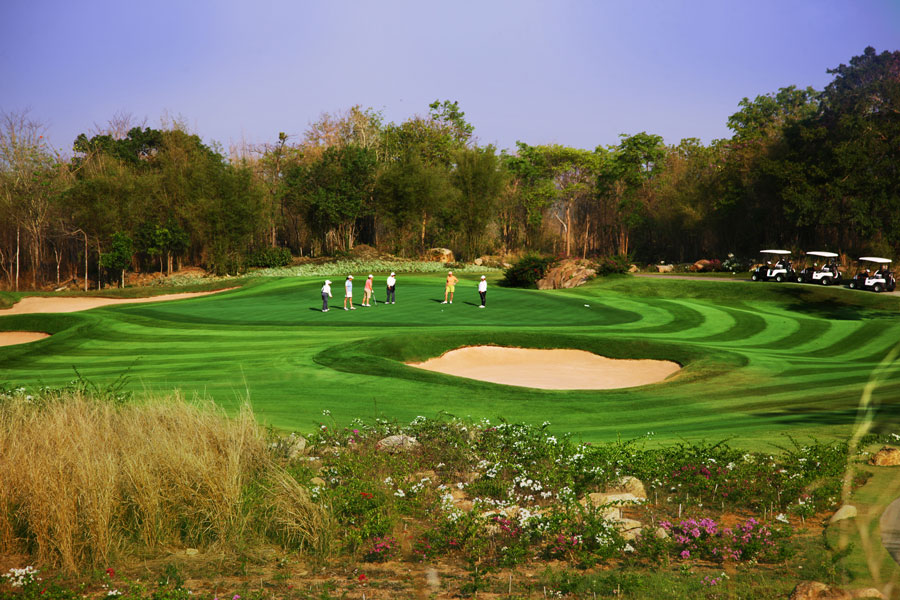 Another of Thailand's highly rated golf courses is Banyan Golf Club and this can also be found in Hua Hin. When it was established in 2009, it was voted as being the best new course in Asia, which is a big accolade and goes some way in highlighting just what a great golf course this has become. Banyan Golf Club was designed by Pirapon Namatra of the Golf East company on a former pineapple plantation and has been featured in the Rolex Top 1000 Golf Courses in the World. If you enjoy having great views when playing golf, you are in for a treat at Banyan Golf Club, with magnificent mountain and ocean views as you play through the 18 holes.
Banyan Golf Club is the perfect choice for a Hua Hin golf tour because it offers six tee boxes on each hole and this makes it suitable for every golfer in your party. Throughout the course expect to see large waste bunkers, sand traps and water hazards, in addition to native pineapple groves, which can easily come into play if you stray too far off the fairway. The greens are made of premium Tiff-eagle Bermuda grass, meaning they are very receptive and remain in good condition throughout the year. The signature hole is the par-3 15th and this provides tremendous views of the ocean which stretch all the way out to Tiger Island. However, you cannot allow yourself to be swept away by the views, as the Banyan golf course features sloping fairways, elevated greens and well placed bunkers, all of which can catch you out if you lose concentration.
Having completed a round at Banyan Golf Club, make use of the fantastic facilities, which include a terrace restaurant, walk-in wine cooler and Mulligan's Pub, which is the ideal place to discuss your round with a nice, cool beer. It's the perfect end to a great day of golf on a course which must be on your list when organising a Hua Hin golf tour.
For a trip back in time, you cannot arrange a Hua Hin golf tour and leave Royal Hua Hin Golf Course off the plan. This golf course was established back in 1924 and is the oldest 18-hole championship standard golf course in Thailand. With British railway workers staying in the area, along with Thai aristocracy, the course was created next to the Hua Hin railway station and can be seen on arrival by train from Bangkok. If you have played golf in the United Kingdom, the layout may seem familiar and if you are playing in the height of summer, the many mature trees provide plenty of shade, making Royal Hua Hin an excellent option for those playing between the months of March and May.
The history, along with the views of Gulf of Thailand can leave a lot of visitors thinking this course will be a walk in the park but far from it, you must be on top form to get a low score at Royal Hua Hin. Several of the fairways are tight, with trees either side and the dogleg holes are a good test, in addition to the raised, rounded greens. Although the course may not be up to the same standard as Black Mountain and Banyan Golf Club, a strong attraction is the wildlife, which can be spotted as you play your way around the 18 holes. From macaque monkeys to tooting owls which sit at the back of the large tree on the 7th hole, you are in for a real treat. If you have packed light for the day, you can pick up drinks and snacks from the kiosks which are present every three holes, although with the town centre in such close proximity, you should be able to buy anything you require beforehand. Having completed the 18 holes, sit back in the clubhouse and enjoy a drink, while reflecting on the great history of Royal Hua Hin, a course which should form part of every Hua Hin golf tour.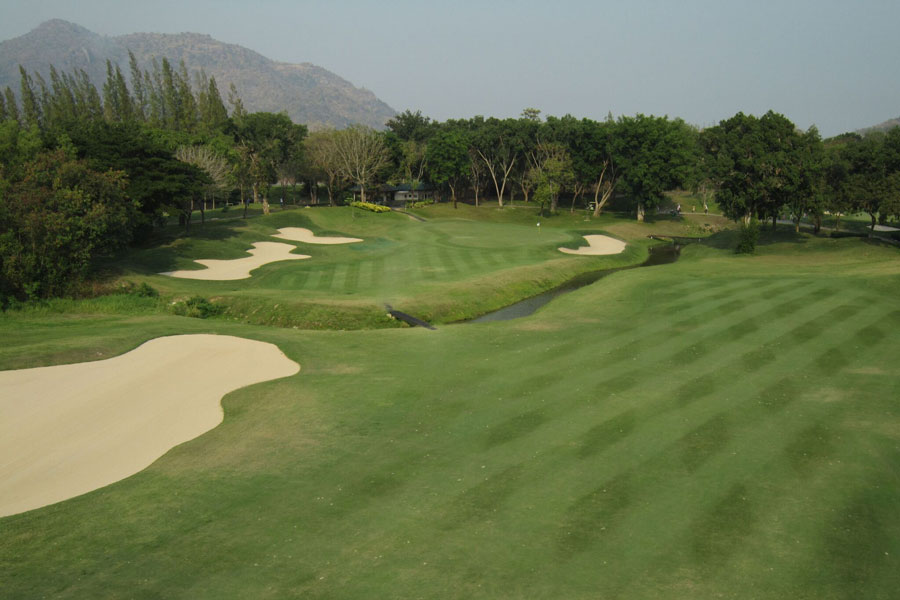 If you would like to add a links style course to your Hua Hin golf tour, look no further than Sea Pines Golf Course, which is located just 20 minutes from Hua Hin. The wind is a key factor when playing at Sea Pines and a strong wind can make for a very difficult round of golf. There are six holes which lie alongside the beach and the remaining 12 holes are split by a railway line and played towards the mountains. The par-5 5th hole is the pick of many excellent holes on this course, with a water hazard down the right side of the fairway, in addition to several bunkers. Look out for the small bunker in the middle of the fairway, which leads to a dilemma of going for it from the tee or laying up before the bunker. The only consideration when adding Sea Pines to Hua Hin golf tour, is the Army officers and their guests have priority over tee times, as it is they who own the land and therefore booking ahead is a good idea.
In addition to the above-mentioned golf courses, there are many other excellent courses to choose from in the Hua Hin area and therefore it is regarded as one of the top destinations in Asia for a golf tour. Don't miss the Springfield Royal Country Club, which features a Jack Nicklaus designed course and Palm Hills Country Club and Resort, which is in the lower foothills of the town, between Hua Hin and Cha Am. Other good options include Lake View Resort and Golf Club, Majestic Creek Country Club and Sawang Resort and Golf Course, the latter of which is a favourite of the local golfers.
With a wonderful choice of golf courses, accommodation and sightseeing activities, Hua Hin is a great place to play golf. Having picked the best climate in which to play and chosen the golf courses which sound of interest, you will have no problem when it comes to organising a Hua Hin golf tour.