Wonderful Views - Great Golf Courses - Excellent Climate- Great value for money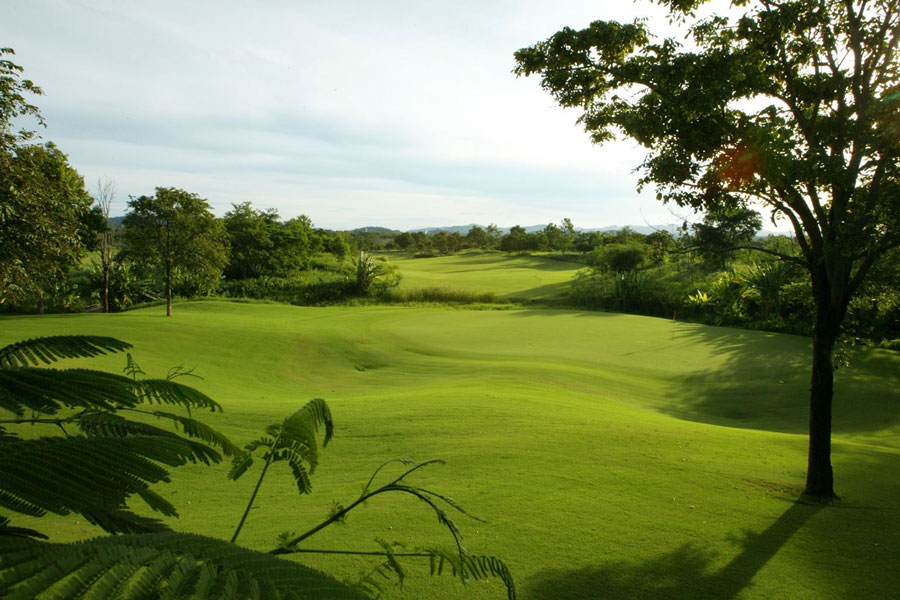 Thailand is a great destination for golf lovers. There are so many top quality and exciting golf courses to choose from, it's easy to become overwhelmed and struggle to decide as to exactly where one should stay for the perfect Thailand golf holiday. A region of Thailand which should be at the top of your list for a golf holiday, is Khao Yai.
Khao Yai is comfortably one the most picturesque areas of Thailand and that's saying something for a country which boasts such a diverse range of stunning nature and scenery. Khao Yai is home to Thailand's oldest and second largest national park and with over 2,000 square miles of grassland and forest, the choice of walking and hiking opportunities are endless. There are many waterfalls to enjoy, including the one made famous in the move 'The Beach' and the wildlife is abundant, with animals such as elephants, gibbons and bears.
These features all add to a region, which provides one of the greatest selection of golf courses in Thailand. When golfing in Khao Yai, you may not have time to see everything else it has to offer, due to the enjoyment of the various golf courses available. Being just a 3-hour drive from Bangkok, Khao Yai is easy to reach and makes for a fantastic golf holiday.
How to get to Khao Yai?
The only practical way to get there is by road which takes around 2.5 hours from the centre of Bangkok and about the same time from Suvarnabumi Airport. Don Mueang International Airport is marginally closer and takes just over 2 hours. Having said this, the park covers an area of more than 2,000 km2 so travelling times will vary depending on which part of the park you are visiting. The park is one of the most popular National Parks in Thailand and gets very crowded at weekends so you may get held up in traffic as you leave Bangkok.
When to go to Khao Yai?
There are three main seasons in Khao Yai and the so-called winter begins in early November through until the end of February. The winter season is a great time to visit with average day time temperatures in the mid-twenties with quite cold nights when temperatures have been known to drop as low as 10 degrees Celsius. The days are usually bright and sunny with minimal rainfall. Things start to heat up in March and this signals the start of the Hot Season and the temperatures continue to rise until the end of April with daytime temperatures in the high twenties and a bit cooler at night. The rains will arrive sometime in Mid-April which cools things down a bit and at this time it's best to play in the morning as the rains tend to come in the later afternoon. If you are planning to venture into the park as well as on the golf course, then the Wet Season is the best time to see the animals and to view the many waterfalls which will be full of water.
Where to stay in Khao Yai?
Kirimaya Golf Resort & Spa
This is a superb resort which can be reached in just over 2 hours from Bangkok which is situated in a lovely and very natural location quite close the park. The resort offers three different types of accommodation spread over four different buildings and they all have great views over the surrounding mountains. The rooms are all decorated to a very high standard with very modern bathrooms.
D Varee Charnvee
A very unusual resort more reminiscent of an English country hotel with a distinctly European look to the buildings which is also followed through in the design and finish of the rooms themselves. This is all set in a stunning natural location with all the facilities and amenities you would expect in a a top class resort.
Sir James Resort
This hotel complex consists of a resort of 32 rooms as well as a 119 room hotel. Plenty of facilities including a large swimming pool, fitness centre and sauna, spa and massage. There are also extensive sporting facilities including snooker & billiards, tennis courts and a jogging track.
Mountain Creek Golf Resort & Residences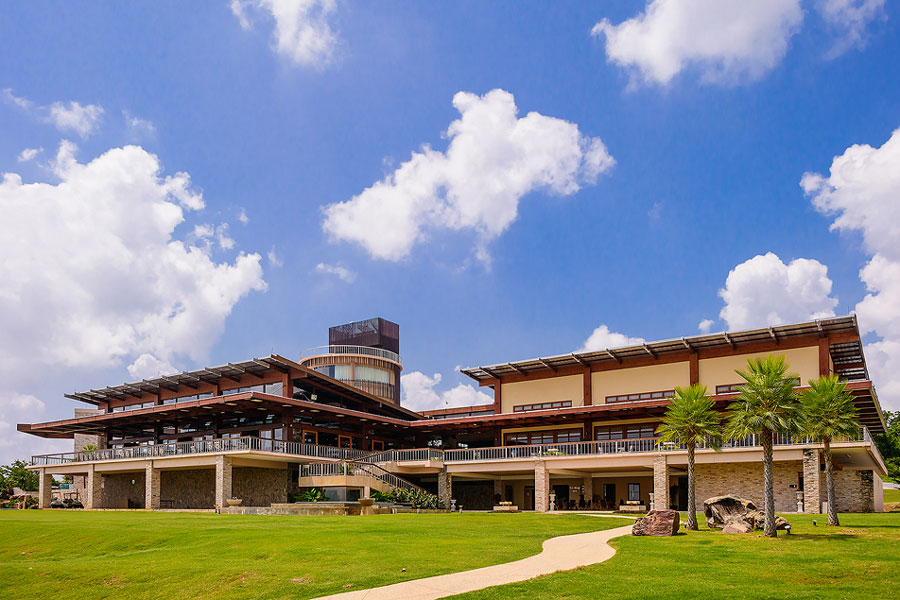 Mountain Creek is a deluxe resort offering three types of private villas. The deluxe villas all overlook the golf course and offer deluxe facilities in a relaxing environment. The pool villas all have a private plunge pools and larger bathrooms and the Family Pool Villas have two bedrooms and two bathrooms which are also ideal for two couples playing golf together.
Khao Yai is home to Thailand's only Seve Ballesteros course, Mountain Creek Golf Resort and Residence. This 27-hole course, is just 30 minutes away from Khao Yai National Park and offers three, 9-hole loops, named Highlands, Creek and Valley, all of which live up to their name. Dense jungle frames many holes here and the Creek and Valley courses are the most interesting and challenging of the three, with the Highland course being mainly flat throughout. The holes are played to various distances, with short par-4's and long par-5's and some of the greens are very undulating, providing a good test with the putter. The off-course facilities are also very good, with a large clubhouse being the focal point of the three sets of 9-holes. If an interesting but challenging round is what you are looking for when golfing in Khao Yai, Mountain Creek Golf and Residence is definitely worth a visit.
One of Khao Yai's best golf courses, is Rancho Charnvee Country Club, which is located inside the Khao National Park. The course was designed by Bob McFarland and is a flat layout, making it ideal for golfers of all abilities. The views around this golf course are tremendous, with hills and mountains providing the perfect backdrop to a round of golf which is played around a country farm house, featuring well thought out bunkering. Water also comes into play regularly and the first hole is no exception, with a drive over a large lake required to get the round started. The facilities, including the restaurant and changing rooms are very good and the well-maintained course is a pleasure to play.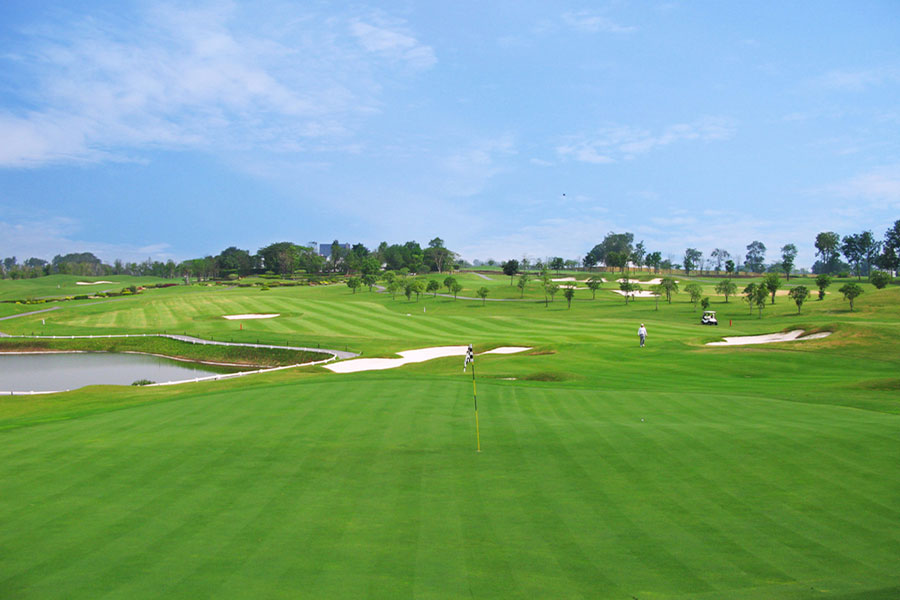 If you are searching for the best quality resort when golfing in Khao Yai, Kirimaya Golf Resort and Spa will fit the bill the nicely. Designed by Jack Nicklaus and opened in 2004, is one of the most natural golf courses in the country and is often considered one of the top three Nicklaus designed courses in Asia, by their own design team. Surrounded by typical Thailand countryside of jungle and wooded hills, the golf course at Kirimaya offers quite generous fairways but with thick vegetation on either side, tee shots can still feel daunting, especially for first timers. Water is abundant throughout, with small ponds, lakes and wetland areas which protect the front of several greens. The stress of modern life feels a million miles away when playing golf at Kirimaya Golf Resort and Spa, as you immerse yourself in Khao Yai's countryside and focus on one of the best challenges you will face on any golf course in Asia. The 5-star resort, which makes up the complex is superb, with luxurious, unique tented accommodation and quality personal service you will struggle to find elsewhere. For a fantastic, all round golfing experience in Khao Yai, Kirimaya Golf Resort and Spa comes highly recommended.
If you have arrived in Thailand via Bangkok airport and will be making the journey to Khao Yai but cannot wait to get on the golf course, Forest Hills Country Club is a great place to stop. Just 90 minutes from Bangkok, on the way to Khao Yai, the Sir James Golf Course at Forest Hills Country Club is very enjoyable and makes for a nice challenge as the first golf course on a Khao Yai golfing holiday. The course is situated in the foothills of Khao Yai National Park and is well maintained throughout the year, with flowers, shrubs, rockeries and water hazards, adding to the pleasant feel of the course. There is enough in the way of bunkering, doglegs and water hazards to add testing holes to many which are relatively straightforward in comparison. Forest Hills Country Club is the perfect introduction to golfing in Khao Yai, for players of all abilities.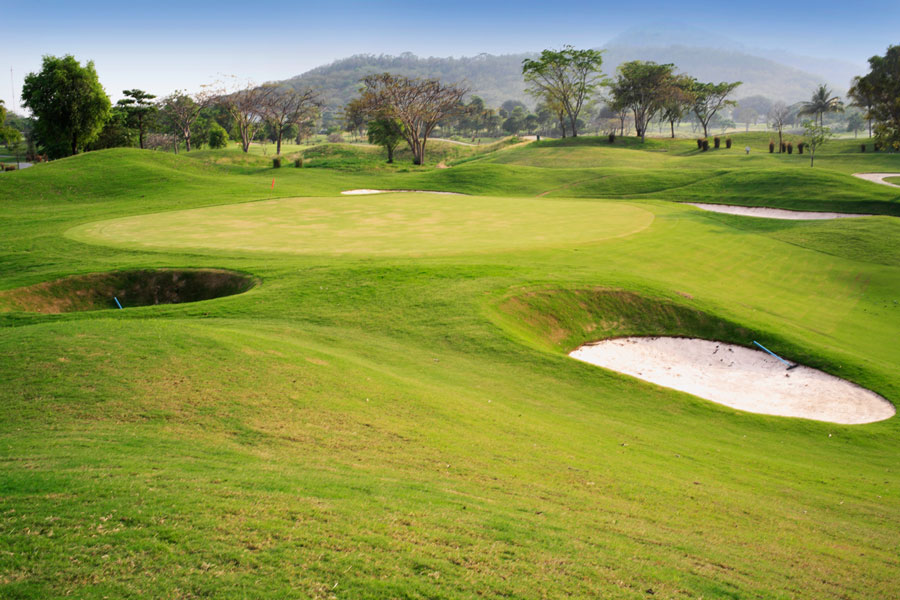 Located in the cooler highlands of Khao Yai National Park, is Bonanza Golf and Country Club, which was apparently named because it was the owners favourite television show. Designed by John Gray and opened in 1996, this is an international quality golf course, which features quite significant changes in elevation, some up to 120 feet. There are several reservoirs at the north end of the course and it feels wide open, with few trees or bunkers, making it quite unique in Thailand. If you are looking for a cooler climate when golfing in Khao Yai, Bonanza Golf and Country Club is ideal.
Home to some of the most challenging golf holes in the whole of Thailand, Toscana Valley Country Club is one of the most exclusive golf courses in Khao Yai. The scenery is something special, with the golf course situated in a deep valley, inside the Khao Yai National Park and in addition to the Italian themed housing around the course, makes for some great views. The golf course is tough, with deep bunkers, elevated and undulating greens, fairway drop-offs and water carries, so be prepared to be tested on every shot you play. However, play well at Toscana Valley Country Club and it is one of the most rewarding golfing experiences in Khao Yai, with the lovely facilities and Italian restaurant, adding to the overall enjoyment of the round.
The second of the Jack Nicklaus designed courses in Khao Yai can be found between two valleys, on the outskirts of the Khao Yai National Park. The views at Khao Yai Golf Club are superb, especially over the hills of the national park and the layout is excellent, with plenty of challenging holes to enjoy. Look out for holes 10 and 11, which combine to make possibly the best back-to-back hole combination in the whole region, with Nicklaus design trademark bunkering, playing a large part. The facilities may seem a little basic in comparison to other golf courses in the area but with the mountain scenery, Khao Yai Golf Club makes for a pleasant round of golf.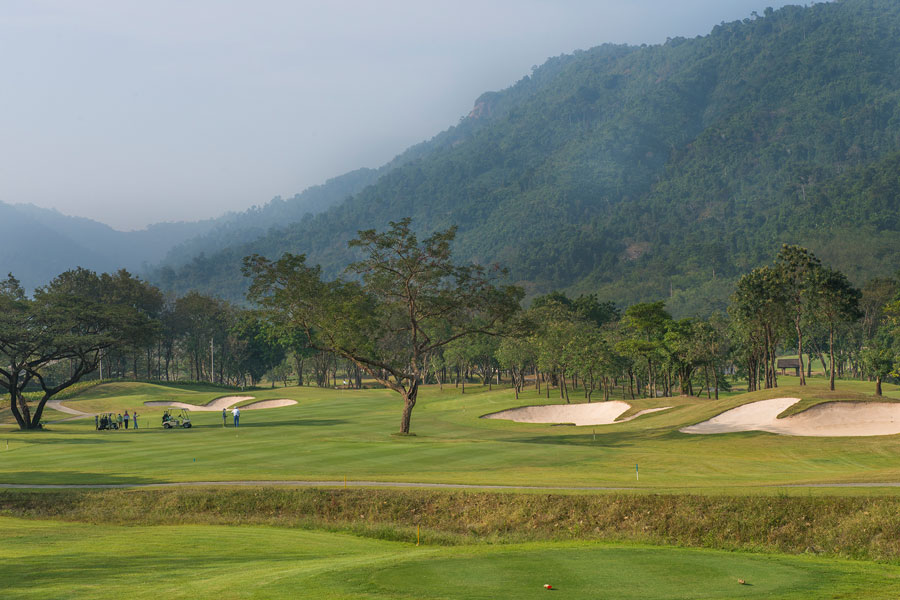 Finally, Royal Hills Golf Resort and Spa is a very well maintained course in Nakhon Nayok Province, on the back end of Khao Yai National Park. This is the only course designed by Nelson and Wright in Thailand and it is used regularly for professional golf events, with a total distance of over 7,000 yards. The course blends in nicely with the natural surroundings and well placed bunker and water hazards combine with the wide fairways to test golfers of all abilities. The greens are undulating and kept in good condition throughout the year, providing a true putting experience every time. There is plenty to do off the course at Royal Hills Golf Resort and Spa, with a large swimming pool, fitness room, sauna, table tennis, snooker table and children's playground, making it a great place for the whole family to come for an enjoyable day out. There is also a choice of four restaurants and a wide range of outdoor activities, such as hiking, mountain biking and water rafting. Royal Hills Golf Resort and Spa is not only a good golf course but a great place to stay and enjoy the local area.
Golfing in Khao Yai is a fantastic experience. There's a great choice, of top quality golf courses, with excellent facilities to match. Combine the delights of the national park and you have a golf holiday which is sure to not only live long in the memory but leave you wanting more.