One of Thailand's lesser known golfing destinations within easy reach of Bangkok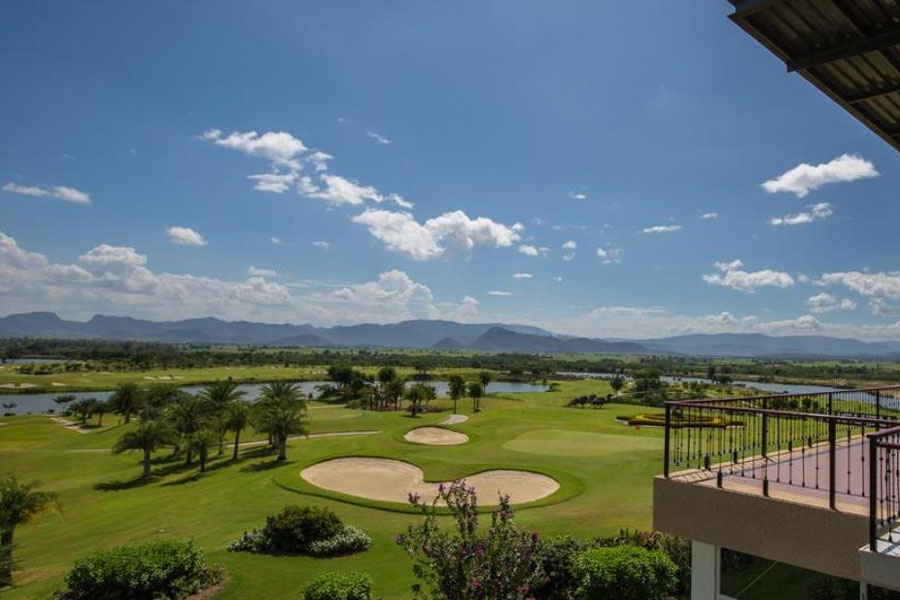 If you have been to Thailand before and want to try something new then head for Kanchanaburi. Kanchanaburi is a provincial town in Thailand and is about 2 hours' drive from the capital city, Bangkok. Situated in the South-Western region of central Thailand, its position close to the foot of a mountain range, keeps Kanchanaburi cooler than other provinces in Thailand and coupled with the history and attractions of the area, this makes it a popular stop for those visiting the country.
If you believe you have heard the name of the town before but are not sure why, perhaps it is to do with the Bridge on the River Kwai, which was built by prisoners of war during World War 2, to support the Thai-Burmese railway. The fictional book, written by Pierre Boulle, has also been turned into a movie and the bridge is one of the most important historical structures in Kanchanaburi.
How to get there?
It's about 2.5 hours by car from downtown Bangkok and around 3 hours from the centre of Hua Hin. If you are the adventurous type it is also possible to take a train from Bangkok in around 3 hours.
When to go?
You can visit Kanchanaburi at any time as the climate is quite pleasant all year with only a slight variation in temperature between 25° to 40° Celsius. There are three distinct seasons, the hot season from February till May, wet season from July until October and the winter season which lasts from November till January. Things heat up from February to October with temperatures climbing to as high as 40° C in April with the occasional cooling showers. The frequency of rain increases in July but it usually comes in short bursts and seldom rains for long periods.
Where to stay?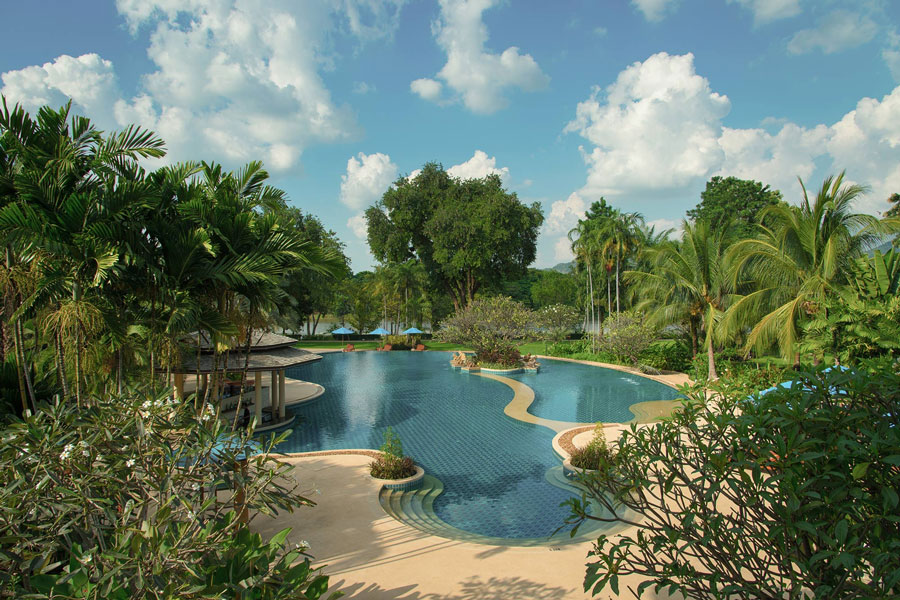 Our favourite hotels are all located along the banks of the river – not far from the famous bridge and we have three recommendations depending on your budget:
Felix River Kwai Resort is a 5-star resort on a large plot of riverside land right beside the bridge. It's a low-rise property with lovely landscaped gardens and all of the rooms have private balconies overlooking the river. Plenty of things to do with two swimming pools, tennis courts and a spa.
U Inchantree Kanchanaburi, a smaller boutique Hotel situated on the north bank of the river also quite near the bridge. There are 50 rooms in 2 storey blocks overlooking a courtyard in a more rustic design. he Kwai Yai River close to the famous River Kwai Bridge.
Without doubt the best hotel in the area is Dheva Mantra Resort, which features colonial style accommodation overlooking a beautifully landscaped pool surrounded by wonderful landscaped gardens leading down to the river. The rooms are very large and comfortable with all modern amenities including flat-screen TV and luxurious bathrooms. They have a superb spa and a selection of great restaurants.
Non-golfing attractions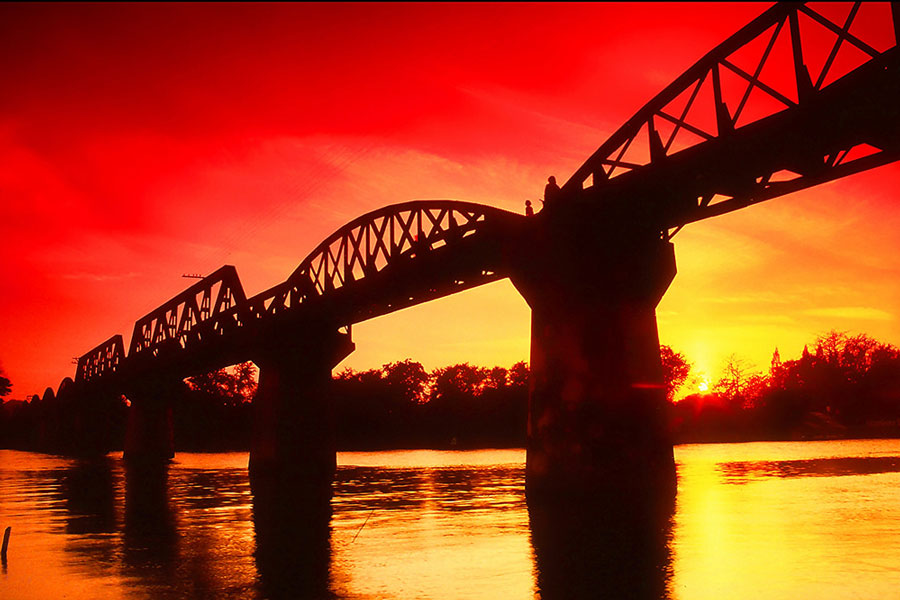 If you want to take a break from playing golf there are plenty of other things to do: You of courses need to take a walk over the famous bridge which cost the lives of more than 16,000 allied soldiers and more than 100,000 local Thai and Burmese labourers. If you have time you should also visit the immaculately maintained war cemeteries and if you have the stomach for it you can also visit the JEATH museum which illustrates only too clearly the brutal treatment suffered by the prisoners at the hands of the Japanese.
Apart from the sites linked with the War, Kanchanaburi has some spectacular countryside and beautiful waterfalls nearby a visit to Elephant World Sanctuary is well worthwhile.
Golf in Kanchanaburi
there are so many options, visitors are spoilt for choice
However, away from the historical and cultural attractions, there is one reason many people choose to stay in Kanchanaburi and that's for the golf. Due to the many mountain and river valleys present in this area of Thailand, there are some tremendously scenic spots, where golf course architects have worked and created some magnificent golfing experiences. Perhaps the most popular course in Kanchanaburi, ticks all the boxes in terms of design and scenery and that's Nichigo Golf Resort & Country Club.
Established in 1992 and designed by Mitsuaki Kobayashi, Nichigo Golf Resort & Country Club is situated just 30 minutes north of Kanchanaburi town, along the river Kwai Yai. The 27 holes are split into three sets of 9, called Lake, River and Mountain Course and each of them are nestled nicely in the picturesque landscape. Golfing in Kanchanaburi does not get much better than this, with tropical gardens, mountains and the river running alongside, Nichigo Golf Resort & Country Club is one of those which often fits in with visitor's expectations of what playing golf in Thailand would be like. In terms of the golf course itself, the fairways are often hilly, with many doglegs throughout the 27 holes and the greens are well protected by bunkers, adding to the overall difficulty of the course. The quality is excellent, as the course is well maintained and environmentally friendly, due to the Noshiba grass, which does not require any pesticides to remain at a high standard, whatever the time of year. The standard of facilities may not match the top-quality golf course but with Kanchanaburi so close, this is not an issue. Nichigo Golf Resort & Country Club is easily one of the top golf courses in this area of Thailand and is a must visit when golfing in Kanchanaburi.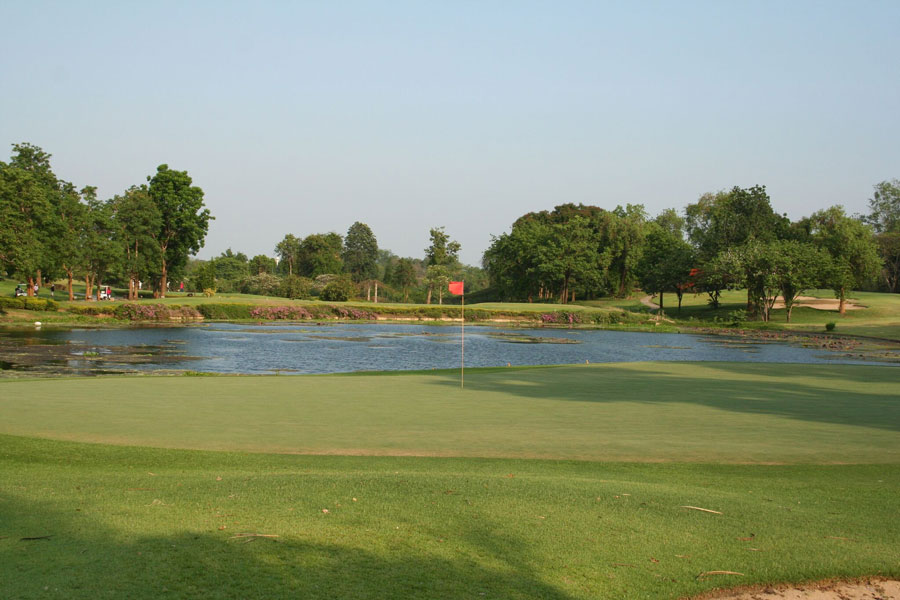 One of three Jack Nicklaus designed Mission Hills golf courses in Thailand, can be found in Kanchanaburi and is located about three-quarters of the way from Bangkok. This makes it a good stop along the way, if arriving at Bangkok airport and eager to get on the golf course immediately. The course is set on a sloping hillside, with mature palm trees lining the fairways and as per the standard Nicklaus design, waste bunkers are one of the many hazards on the course. Mission Hills Golf Club Kanchanaburi, is an 18-hole course, playing to just over 7,000 yards and there is choice of 5 tee boxes, allowing players of all abilities to enjoy playing the course. In addition to the waste bunkers, water and trees play the role of the major hazards and the rough should be avoided at all times, as it can be quite thick and difficult to escape from cleanly. The par-5's are the pick of the holes here, often with bunkers throughout and water, stretching alongside or meandering its way across the fairway. Five holes have a double fairway, offering a choice of approach shot, such as the 12th for example, just be aware of the creek, which seems to catch out a good number of players. The 17th hole is also worth mentioning, with an island green requiring a very accurate approach shot. The timber clubhouse is a nice place to enjoy a drink after a round and with the rural countryside and jungle-clad hills surrounding the course, Mission Hills Golf Club provides one of the best experiences for those golfing in Kanchanaburi.
One of the largest golf clubs in Kanchanaburi is the Blue Sapphire Golf and Resort, which was designed by Steven Youdan and Art-anan Yomchinda and opened for play in 2003. This 36-hole golf course is located just 30 minutes from Kanchanaburi and is split in to two, 18-hole courses, the Canyon Course and the Ocean Course. The golf club has got its name from the abandoned, open cast sapphire mine and the mountainous hill around the mine, was used to create both golf courses. Local plants and trees have been planted around the golf courses and are used to frame each hole and in addition to several man-made lakes, make up the key features of the golf courses at the Blue Sapphire Golf and Resort. The Canyon Course offers plenty of water hazards, with every par-3 requiring a shot over the drink. However, some of the most testing water holes can be found on the Ocean Course, which also features elevated greens and small, tight landing areas. Blue Sapphire Golf and Resort offers one of the more testing rounds of golf in Kanchanaburi, in a lovely setting and peaceful surroundings, which is well worth a visit.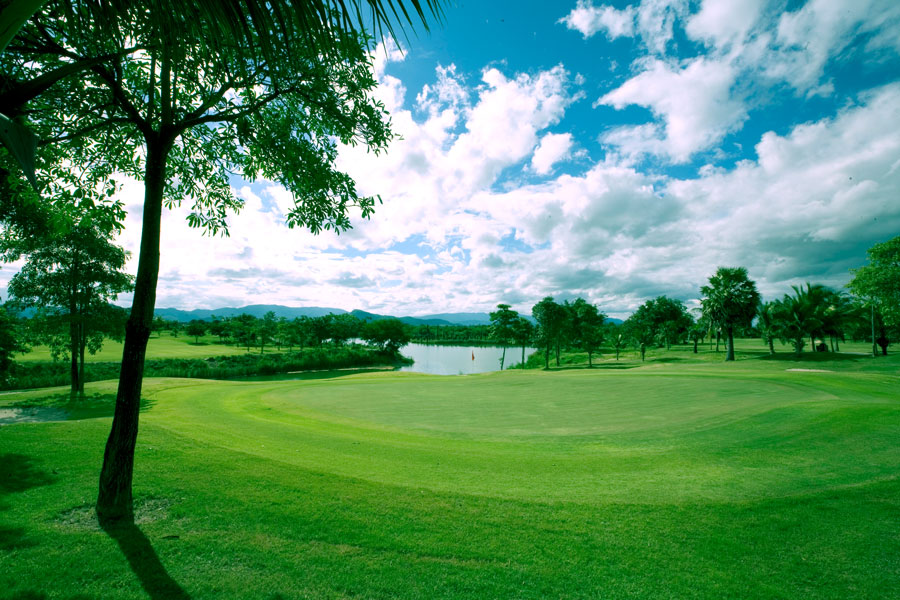 However, arguably the best and well maintained golf course in Kanchanaburi, if not the whole of Thailand is the Grand Prix Golf Club. Only 30 minutes away from Kanchanaburi town, the Grand Prix Golf Club is designed by Mr. Prayard Chinnaraj and Dr. Prachin Eamlumnow and is a truly spectacular place to play a round of golf. The course is in a vast, open space, with tremendous views of the distant Burmese mountain ranges and a large river, which winds its way through the course. The undulating fairways and greens provide a good challenge to golfers of all abilities and a few the fairways are split, adding to the overall experience. The greens are the most testing part of this golf course, often multi-tiered and with many breaks, so landing the ball in the right areas, will help prevent three putting. In addition to the excellent golf course, the Grand Prix Golf Club is home to a fantastic resort and clubhouse, which makes it a great place to stay when golfing in Kanchanaburi.
Another challenging golf course in Kanchanaburi, can be found at Dragon Hills Golf Club. This 18-hole, par-72 course is located within a remote, natural mountainside jungle and is popular with locals, who are looking for a relaxing round of golf, away from the big city of Bangkok. With undulating fairways and greens, water hazards and bunkers, Dragon Hills is a true test of golf, with a very remote and rural feel, which is a good combination, for a lovely round of golf. The location and scenery, are the main reasons why the locals enjoy this golf course and if you want a taste of a remote golf course when staying in Kanchanaburi, Dragon Hills Golf Club will not disappoint.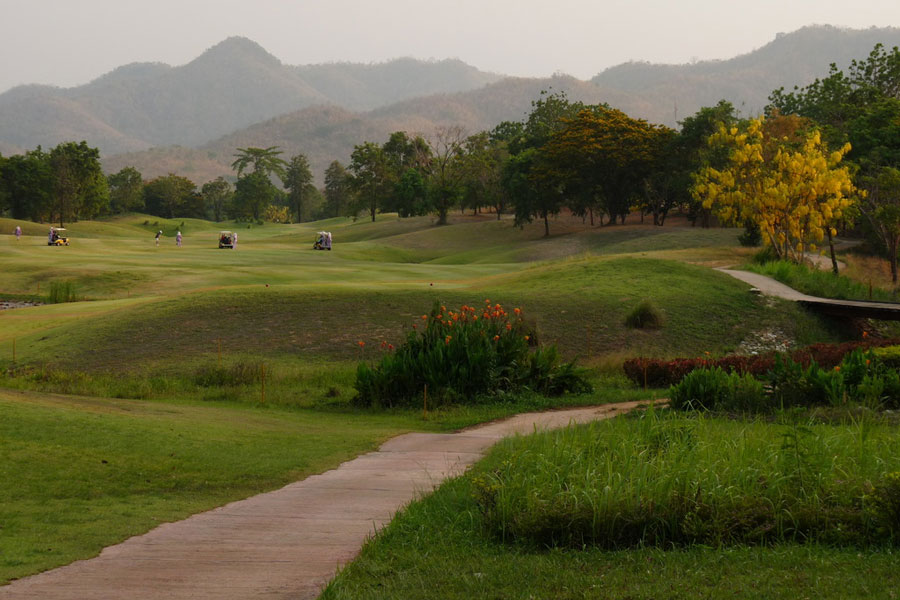 In terms of spectacular golf courses, Royal Ratchaburi Golf Club must be up there as one of the best in the Kanchanaburi region of Thailand. With hilly terrain, the views of the Burmese mountains are a real treat but the course itself is challenging, so it's best not to let the mind wander for too long. The back nine holes is where the real test begins, with narrower fairways than the front nine and tough par-3's, with shots over deep canyons to tricky greens. This is known as being a hidden gem by the locals and shouldn't be missed when golfing in Kanchanaburi.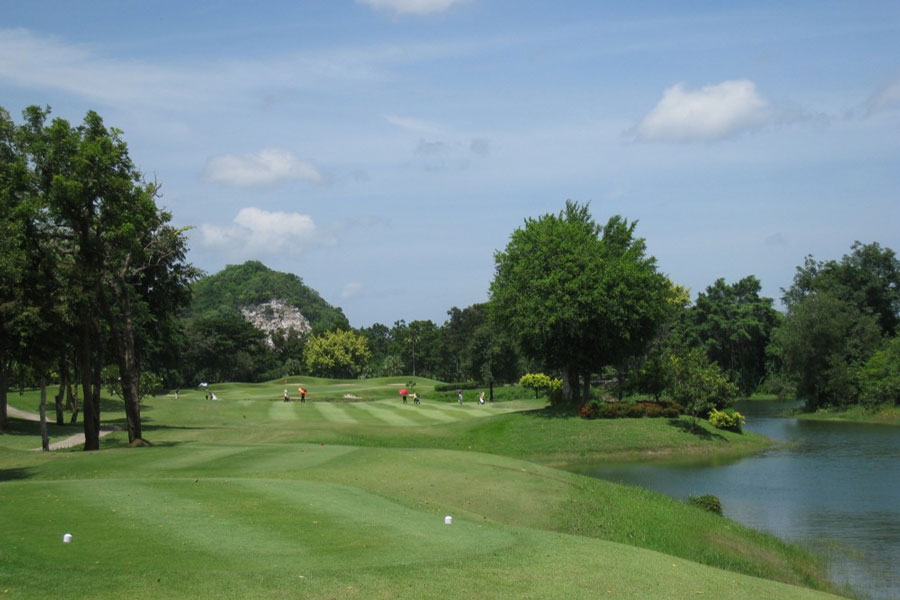 Moving closer to the Burmese border, you will find Evergreen Hills Golf Club and Resort, which has an enviable location, in a wooded, highland valley. Thus, the climate is mild and temperatures are often perfect for a round of golf. Despite the remote location, the course is always in good condition and as a result, many professional Thai golf events have been staged here. This is not a long course but with narrow fairways, sloping greens and bunkers which come into play on most holes, Evergreen Hills offers a good challenge, with accuracy being the key to a low score. For those looking to play on a well-maintained course, where accuracy is paramount, Evergreen Hills Golf Club and Resort is a good choice.
When golfing in Kanchanaburi, there are so many options, visitors are spoilt for choice. With golf courses to suit everyone's taste, it's easy to spend at least a week in this region of Thailand, playing golf and enjoying the surrounding views. Players of all abilities can enjoy playing golf in Kanchanaburi and it's possible to get a feel of what it is like to play golf as a local, with a couple of hidden gems to enjoy, in addition to the more popular courses.