How does the booking process work?
Enter Booking
1. Select the course you wish to play

2. Select the date
3. Select number of players
4. Select the earliest and latest tee times you will accept
5. If more than one product – select product you require
6. Add transfers to course if required
7. Add course to basket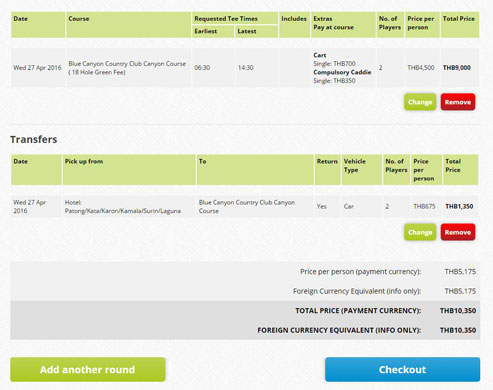 8. If you require additional courses then repeat the process
9. You can change and delete items in the basket
10. Once satisfied that all items in the basket are correct then select "checkout"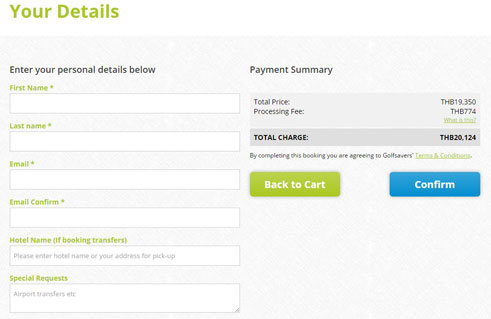 11. Enter your personal details
12. Select "Confirm"
Order Acknowledgement
1. You will immediately receive an email with all of the details you have entered into the system.
2. If you do not see the email please check your Junk/spam/clutter folders. If you still cannot see it then please contact support immediately.
3. If any of the details on the confirmation are incorrect please contact us immediately
Tee Time Confirmation
1. We will immediately begin to process your tee times.
2. If we cannot confirm a tee time within the requested time bands you will be offered an alternative time by email. Please click on the link in this email to accept or reject the alternative tee time offered. If you reject the tee time please advise what you would like us to do.
3. Sometimes we are unable to confirm any tee times on the day you requested – if this happens we will contact you to discuss alternatives.
Payment Request
1. As soon as all the tee times are confirmed you will receive a payment request
2. Click on the link in the email and it will take you into the Client Portal where you select "Make payment"
3. This will then take you to our secure payment gateway where you can pay using your credit card
4. If payment is not received the booking will automatically cancel. If you need more time then please contact support.
Back to FAQ