Thailand - award winning golf holiday destination
"Best up and coming destination" for golf holidays at World Golf Awards
Thailand was voted "best up and coming destination" for golf holidays at the prestigious World Golf Awards.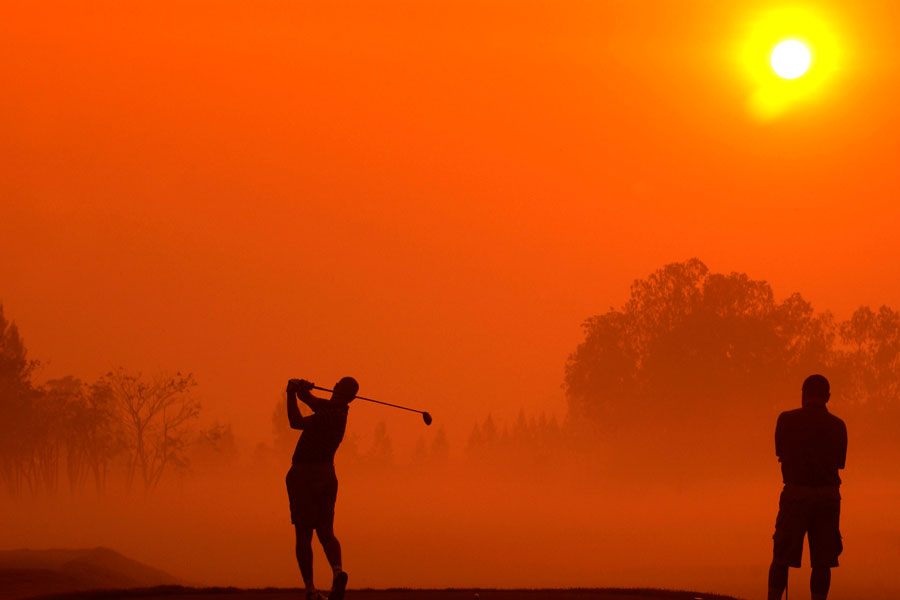 You can play golf all year round in Thailand and although most people flock to Thailand during the Northern hemisphere winter to escape the cold weather you will find a warm welcome from the smiling caddies of Thailand whatever time of the year you visit. Often the choice of travel dates is governed by work routines and family commitments as well as a desire to escape to a warm sunny spot when it is chilly and dark back home. There are a number of things to consider when planning to go on a Thailand Golf Holiday.
Weather and climate in Thailand
The summer season is a great time to visit with cooling breezes and lower temperatures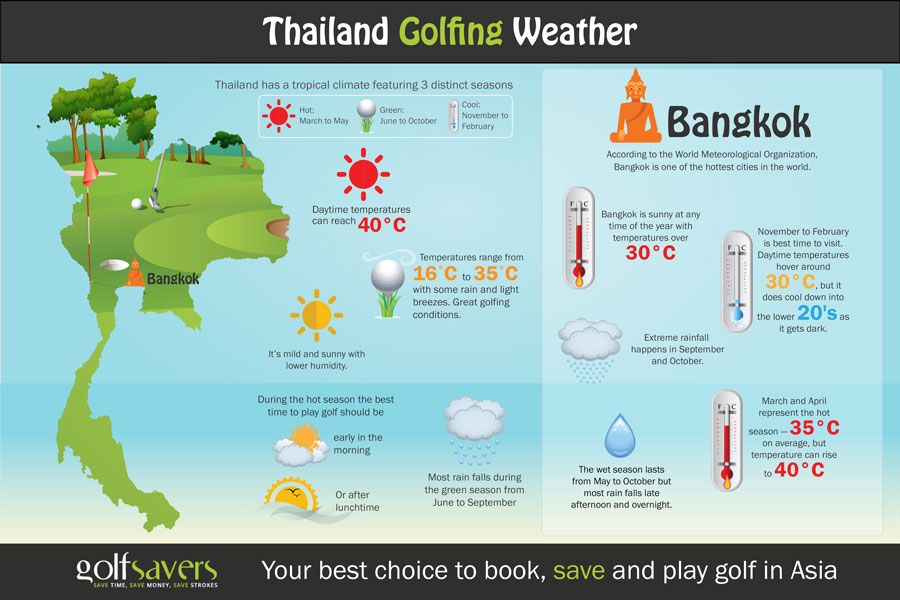 Thailand's weather is essentially separated into 3 seasons although there are regional variations.
Winter Climate and Weather
The so-called "Winter" season, from October to the end of March, brings with it clear weather and lower temperatures. Temperatures vary between 20 to 30 degrees Celsius, with cool breezes making it an idea time to be playing golf. This is also the peak tourist season which means crowded golf courses and higher prices everywhere.
Summer Climate and Weather
The summer season which is often referred to as the "Green Season" begins in early April and it starts to get very hot until the arrival of the rains towards the end of April. The beginning of April also signals the start of the low season pricing at golf courses across Thailand and prices are usually cut by up to 50% with numerous deals on offer. A number of holidays fall in April – most notably the Thai New Year or Songkran which is a lovely time to visit and since it falls in the middle of the hot weather is the signal for a countrywide water fight. In recent years the rains have been coming later and later which has had a severe impact on some of the golf courses who have been unable to keep the golf courses irrigated.
The rainy season usually starts in earnest from the middle of May and will last through until the middle of October. You might look at the rainfall figures and think that it rains all the time but that is not the case. Tropical rainfall is much more intense than storms you might experience in Europe or America and you can get inches of rain in a very short space of time and much of the rain falls at night. Very often it will rain hard for 30 minutes and then clear very quickly and the sun will come out again. The golf courses in Asia have been designed to cope with this weather and they drain very quickly and you can usually continue playing as soon as the rain stops. If you are really unlucky you can experience prolonged periods of rain but this is pretty unusual and it is often bright and clear with prolonged periods of sunshine. It's the luck of the draw. Most golf courses offer a reasonable raincheck policy so if you are unable to play then they will give you a voucher for 9 or 18 holes depending on how many holes you have completed.
When are cheapest green fees in Thailand?
Travel at festival time to get the best deals
Most golf courses across Thailand will reduce their prices from April until the end of October but there are some regional variations. On average prices will reduce by 40-50% if you travel at this time.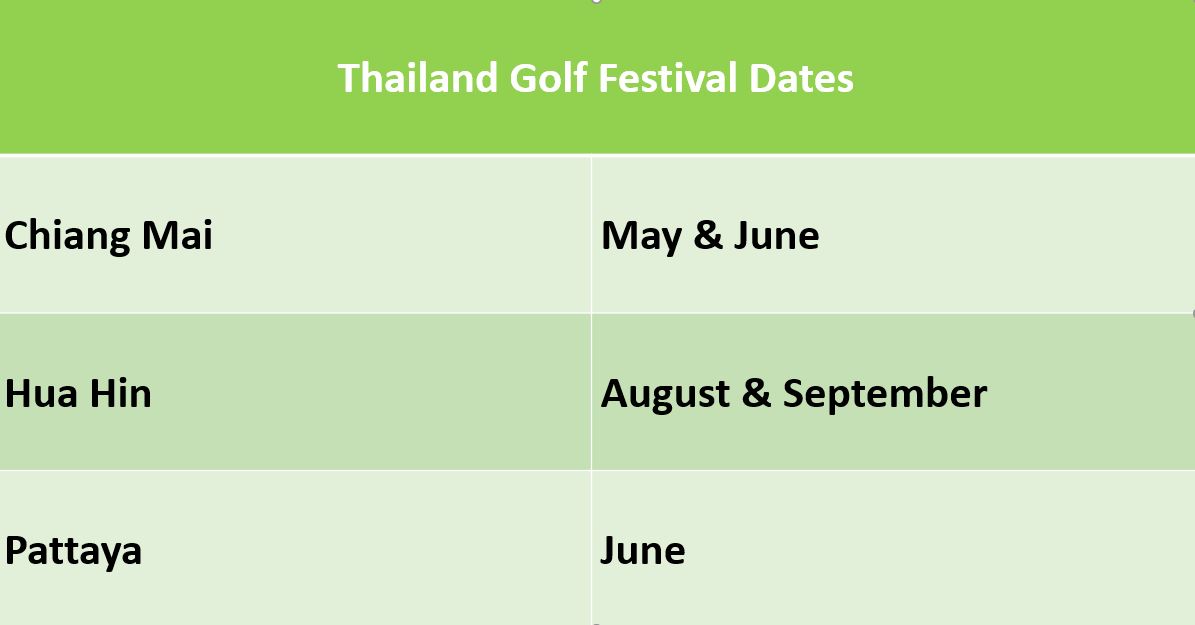 Golf courses in Phuket maintain the same prices all year round although some of the golf courses do offer the occasional reduced price. Bangkok golf clubs reduce their prices slightly but many of the courses in the area are private members clubs and do not rely on golf tourists for their income.
In Pattaya all of the courses publish low season prices and many of them introduce "Sports" days once or twice a week where they reduce the prices even further. Occasionally they will have a Pattaya Golf Festival, usually in June, where they offer even lower prices although not all golf courses participate.
Chiang Mai courses also publish low season rates and they also hold an annual Chiang Mai Golf Festival throughout May & June each year with exceptionally low rates at all courses.
Hua Hin offer great value during the low season and they also have a golf festival in August & September with exceptional prices – even at the premium courses.
Hotel prices in Thailand
Avoid the peak holiday period to get the lowest prices
The hotel prices drop quite dramatically from the beginning of April but they are not consistent and you will find that prices increase during local holidays – Songkran for example and also during regional school holidays. Bangkok hotels, which attracts a lot of business travelers tends to hold their prices higher as they are not relying on the seasonal tourist arrivals. In Pattaya and Hua Hin the prices reduce quite dramatically although they do increase prices slightly over weekends, when many locals travel to these resorts from Bangkok. If you can avoid the weekends then you are likely to enjoy the best deals. In Phuket, which relies almost entirely on tourist traffic the hotel prices drop dramatically with plenty of deals on offer such as free nights and other value-added deals.
If you don't want to take any chances with the weather then you should definitely travel during the winter season from November through until the end of March but you will encounter high temperatures, expensive hotels and green fees and crowded golf courses. If you prefer cooler and fresher weather and you don't mind the occasional thunderstorm then travel during the summer and you will enjoy great prices everywhere and virtually empty golf courses.