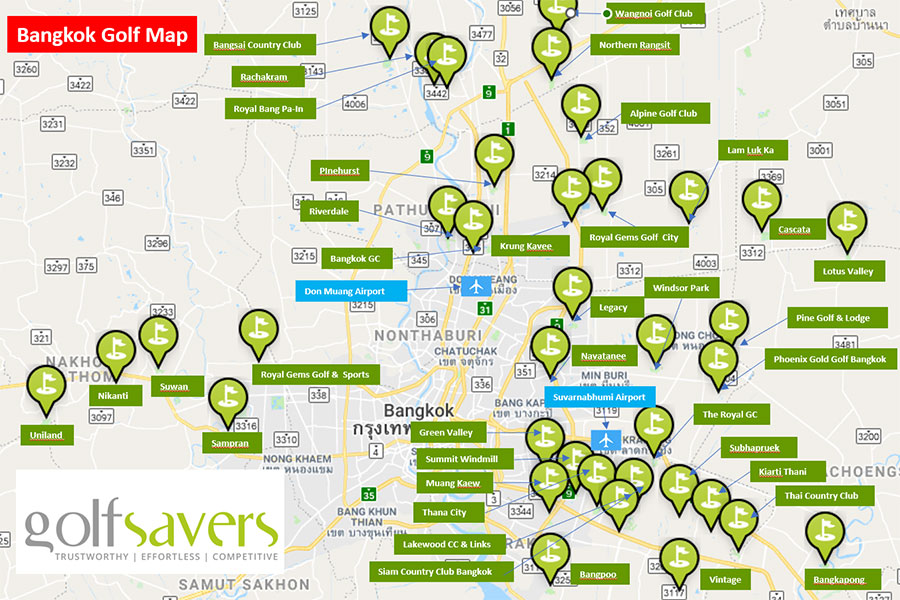 Bangkok is a fabulous location for a golf holiday. Despite being a huge city and the capital of Thailand, there are many top golf courses in and around the city just waiting to be discovered. You could stay in Bangkok for well over a month and still have plenty of golf courses to play - see details here.
It is very easy to reach Bangkok from wherever you are based in the world. There are direct flights from many of Europe's major cities and you can fly from the United States with just one connecting flight. With flight prices very reasonable to Bangkok, it is a city which is becoming a popular choice among golfers.
Bangkok is one of the hottest cities in the world and if you travel in March and April you will be there during the warmest time of the year. Getting on the golf course can provide a nice relief from the hotter temperatures in the city but to really make the most of a Bangkok golf holiday you should book a trip between November and February.
This is known as the cool season but both day-time and night-time temperatures remain warm enough to play golf in shorts and polo shirt.
You can stay anywhere in the central areas our outskirts of Bangkok and easily reach all the top golf courses in the region. Whether you rely on public transport, a taxi or hire your own vehicle, every golf course is each to reach and you will have little trouble adding any of the following golf courses to your itinerary.
One of the closest golf clubs to central Bangkok is Green Valley Golf Club. This golf course was designed by Roger Trent Jones Jr. and is just 40 minutes away from downtown Bangkok. Green Valley Golf Club is also close to Suvanabhumi International Airport making it a great place to start or end a Bangkok golf holiday. Despite its proximity to the city centre and airport, the golf course is situated in lovely countryside.
You must travel east from the city centre to reach Green Valley Golf Club and you do not have to go much further than an hour before you find several other tremendous golf courses.
Just 20 minutes from central Bangkok you will find Muang Kaew Golf Club. This 18-hole, par-72 golf course is popular with the locals due to its location and features an interesting hole with a blind shot as players walk under a highway.
Just 10 minutes further east of Bangkok city centre and you will come to Summit Windmill Golf Club, which was designed by Nick Faldo. This is quite a short golf course by modern standards and water comes into play regularly. This golf course has floodlights so you can play after dark if you wish.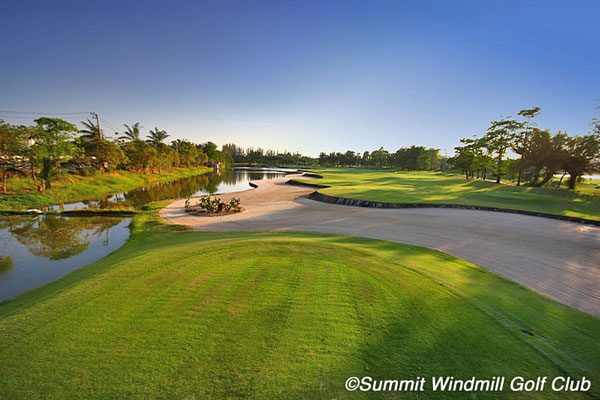 Another leading name in the world of professional golf has lent his skills to creating a course just 30 minutes from downtown Bangkok. Greg Norman's only golf course in Thailand is Thana City Country Club and you will see many planes coming down to land in the airport, some of which can seem very close. This golf course has hosted many of Thailand's major golf events including Johnnie Walker Super Tour, Thailand Open and Ladies Thailand Open but remains very playable, even for beginners.
Two additional golf courses in the same area share similar names but should not be confused. Firstly, you have Lakewood Country Club and this 27-hole golf course is a parkland layout also just 30 minutes from the centre of Bangkok. The course is made up of three sets of nine holes and you can choose which two to combine to make an 18-hole course but they are all similar thanks to the water hazards, doglegs and slightly undulating greens.
The second golf course, which shares the same close proximity to the Bangkok city centre, is Lakewood Links. This golf is owned by the same people as Lakewood Country Club and as the name suggest, the course is spread out across a sandy, links style landscape complete with waste areas, dunes and water. The rolling fairways, undulating and multi-tiered greens add to the water to make Lakewood Links a challenging golf course near Bangkok.
Moving further to the east of Bangkok and you will need to travel around an hour from the city centre to reach Thai Country Club but it is worth the additional journey time. Here you will find one of the best golf courses in Bangkok designed to USPGA standards by Denis Griffiths.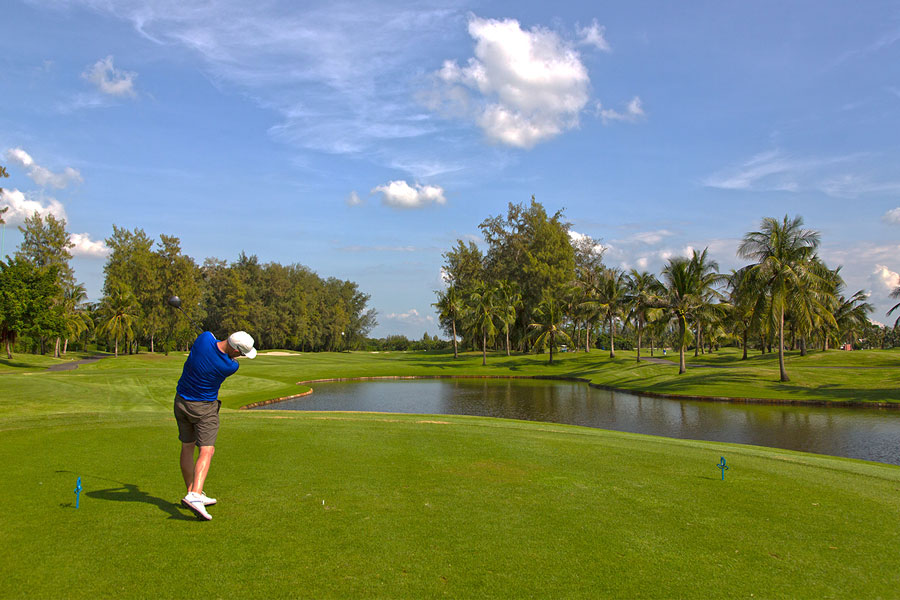 Tiger Woods and Vijay Singh have both won major events at Thai Country Club and it continues to attract golfers from around the world. Featuring many water hazards and bunkers, this is not an easy golf course to tame but it has won many awards for its layout and conditioning plus is regularly voted inside the top five golf courses in Thailand.
The clubhouse has also won several awards and is regarded as being one of the best in Asia. When booking a golf holiday in Bangkok, you must make a trip to Thai Country Club. It is only an hour away from the city and you will enjoy one of the best rounds of golf of the entire holiday, guaranteed.
Other golf clubs to the east of Bangkok city centre you should consider booking include Subhapruek Golf Club, Kiarti Thani Golf Club, The Vintage Club, Bangpoo Golf Club, The Royal Golf Country Club and Bangpakong Riverside Country Club. Other than the latter, you will not need to journey any more than an hour from Bangkok to enjoy a round of golf at these top courses.
Navatanee Golf Course
Moving further to the north of Bangkok and the first golf club you will come to is Navatanee Golf Course. Another of the golf courses near Bangkok to be designed by Robert Trent Jones Jr, this course played host to the 1975 World Golf Championship and the Thailand Open.
Located just 20 minutes from the centre of Bangkok, Navantee Golf Course has improved with age and is rated as being one of the most beautiful in Bangkok. However, do not expect an easy ride as this is one of the toughest layouts in the whole of Thailand and you must be prepared for a challenge. Following your round, you can sample some of the best local food you will find in this region of Thailand at the outdoor restaurant and this is a nice way to finish before heading back to Bangkok.
Just 10 minutes further north of the city centre and you will come to the Jack Nicklaus designed Legacy Golf Club. This is the only Jack Nicklaus golf course in Bangkok and is close to Safari World, so you could combine both if you were interested in seeing the wildlife.
Legacy Golf Club is situated between two lakes but you will find the standard Nicklaus waste bunkers and large fairways around the course. Water comes into play on several holes and the undulated greens are well-guarded by deep bunkers. Look out for the large island green on the 16th hole, which is one of the favourite holes on the course for most visitors.
Continuing north from Bangkok and the host of the 2003 Volvo Masters, Bangkok Golf Club enjoyed a transformation in 2012 and this has made the course more accessible for beginner golfers. It plays to 6,800 yards and there is a significant amount of wildlife around the course, including deer which often leads people to their camera. The greens are arguably the best feature of Bangkok Golf Club and you will struggle to find faster, truer greens anywhere in Bangkok and the surrounding area.
Close to Bangkok Golf Club and just 30 minutes away from downtown Bangkok is Riverdale Golf Club. This is regarded as being one of the best golf courses in and around Bangkok and you should seriously consider adding it to your Bangkok golf itinerary. It may not look like much initially but once you start getting into the round at Riverdale Golf Club you soon realise you are in for both a test and a treat.
The course is quite open yet is linked together nicely by small lakes, rolling fairways and large hills. These combine with high quality bunkering and well-conditioned, raised greens to produce a fantastic golfing environment. The best three holes at Riverdale Golf Club can be found on the front nine and if you want to save them for the end of your round you can request to play the back nine holes first.
One of the furthest golf courses north of Bangkok city centre is Pinehurst Golf and Country Club yet it remains just 40 minutes away which highlights how close you are to all of the golf courses in this region of Thailand.
Close to Don Muang Airport, you can easily combine a round of golf at Pinehurst Golf and Country Club on arrival or departure day if you are using this airport. The golf course has three sets of nine holes called North Lake, South Greenfield and West Forest. The names of each can be a little misleading with the latter arguably the best loop, featuring mounds to the sides of the fairways and water hazards but nothing in the way of a forest.
You will find wide fairways and large greens throughout the 27 holes, with the green on the 8th hole of the West Forest course being one of the biggest in Asia. Look out for the golf carts with Rolls Royce branding plus the floodlights, which make night golf a possibility at Pinehurst Golf and Country Club.
You are spoilt for choice when it comes to playing golf in the northern areas of Bangkok. In addition to the golf courses highlighted above you are just 90 minutes driving time from the Gary Player Designed Lotus Valley Golf Club. This is the furthest journey north-east you will need to make but it is worth it thanks to the strategic design of many of the holes, offering both a safe and risky route to the green.
There is water in abundance and it comes into play on every hole although they are some where you need to be very wayward to get into trouble.
Finally, to the west of Bangkok and you are in for a treat at Royal Gems Golf and Sports Club. This course was designed by Gary Baird and opened for play in 1989. Just over an hour west from downtown Bangkok, Royal Gems and Sports Club is a real test of accuracy thanks to the narrow fairways and long rough. Much of the course is flat but with large bunkers, fast greens and plenty of water hazards to contend with, you will be glad there is not a great deal of change in elevation.
The clubhouse boasts a restaurant serving Thai, Western and Japanese food and you can enjoy a meal before heading back to Bangkok.
Other golf courses to the west of Bangkok require a bit more of a drive but you will find plenty to choose from including Sampran Golf Club, which is the closest at just over an hour away plus Suwan Golf Country Club, Nikanti Golf Club and Uniland Golf Country Club. The latter is the longest journey you will need to make but again, you will arrive within two hours and have plenty of time to enjoy the 27-hole golf course which is in the Nakhon Pathom region of Bangkok.
With so many tremendous golf courses to choose from in Bangkok and the surrounding area, you are spoilt for choice. Within a 60 minute trip of the city centre you can reach many of the regions top golf courses and enjoy a thrilling Bangkok golf holiday.